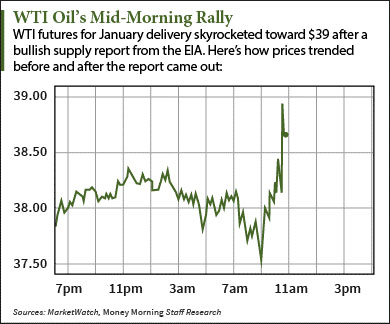 WTI crude oil prices today (Wednesday) jumped 3.7% after the U.S. Energy Information Administration (EIA) reported the first U.S. supply decline in 11 weeks.
At 10:35 a.m., WTI crude oil prices were trading at $38.89 a barrel. The U.S. benchmark is rebounding from yesterday's seven-year low of $36.79. Prices are now down 35.2% for the year.
Brent crude oil prices also moved higher this morning. The global benchmark gained 2.7% to $41.69 a barrel. It's down 37.5% in 2015 so far.
The surge in crude oil prices today came after the EIA said in its weekly report that U.S. oil inventories decreased by 3.6 million barrels last week. That makes sense considering oil refineries operated at 94.5% of capacity, up from 93.1% the week before.
Although the drop marks the first weekly decline since September, investors are skittish about supply sitting at an 80-year high of 485.9 million barrels.
"Gulf Coast refineries appeared to be cranking out a lot of product last week, helping to drive down Gulf Coast oil inventories," said Richard Hastings, macro strategist at Seaport Global Securities, to MarketWatch. "A bit of relief for the week, but pressure remains fully in place going forward."
Since oil refineries worked at a higher capacity last week to produce more gasoline, the amount of untouched oil supply decreased significantly.
Despite some sporadic increases, oil supply will continue to decrease in 2016. According to Money Morning Global Energy Strategist Dr. Kent Moors, the drawdown will come from a huge drop-off in well production next year.
You see, the average U.S. well produces most of its volume within its first 18 months. The majority of wells are now seeing a peak in production. That makes sense considering the oil price crash has been going on for about 18 months.
"The U.S. rig count has declined precipitously… that can't help but lead to a drop in supply, especially when it comes to shale or tight oil," Moors said. "It's called the decline curve and can't be finessed forever."
As demand surpasses supply next year, crude oil prices will see a significant rebound.
In fact, Moors just released his oil forecast that specifically shows where WTI and Brent prices will be by Q3 and Q4 2016…
Alex McGuire is an associate editor for Money Morning who writes about energy. Follow him on Twitter for all of the biggest updates on oil and gas prices.
Like us on Facebook: Money Morning