The gold price today is up $2.80 to $1,062.90 ahead of the U.S. Federal Reserve meeting likely to cause a bump in markets.
In the face of persistent weakness both in stocks and oil, gold prices stood their ground last week. Meanwhile, gold stocks last week fell down about 1.5%, the S&P 500 retreated 2.75%, and oil slipped a hefty 9%.
The VIX S&P 500 volatility index climbed over 30% last week, showing a growing uneasiness and a marked move away from complacency.
This all comes as we quickly approach "R-Day," Wednesday, when the Fed announces its decision on a likely rate hike.
Here's what went down, and what you need to watch, with the gold price today…
Gold Price Moves Investors Need to Know
Last week started out as a challenging one for stocks and oil, which have succumbed to weakness, while gold managed to maintain its stance.
Anticipation of the Fed's rate hike, odds for which now stand at over 80%, have likely been causing these gyrations as the market tries to digest the uncertainty.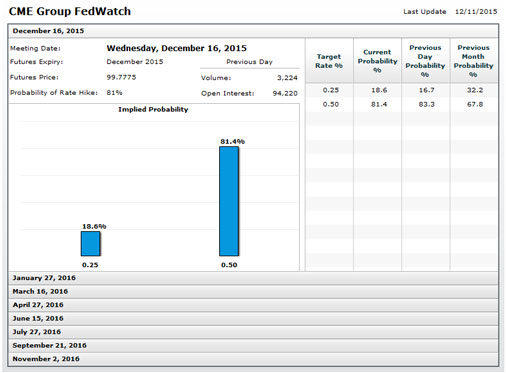 But what I think is most worth pointing out at this juncture is the reaction in the U.S. Dollar Index (DXY).
It's widely believed that the U.S. dollar should rise if rates rise, which at this point is looking all but assured.
And yet here's how the DXY has behaved over the past two weeks: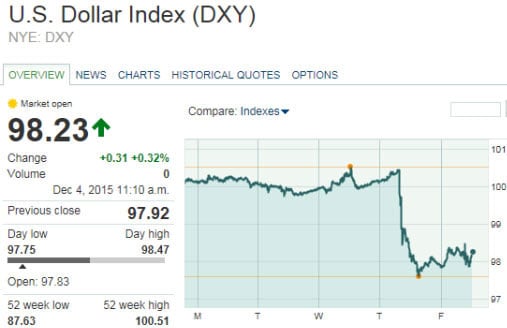 After trading north of the 100 level as recently as Dec. 2, the U.S. Dollar Index has been on a steady and perhaps counterintuitive decline as we've gotten ever closer to Fed day. It seems we have a classic case of "buy the rumor, sell the news" for the U.S. dollar.
It's very possible that, as the rate hike becomes official, the dollar's recent peak near 100 may well have marked the beginning of a new bear. And if that's the case, it will only help gold begin a new upward cycle.
But there are other indicators to watch for clues as to the gold price's direction in the near and medium terms.
Gold Price Indicators to Watch Now
Join the conversation. Click here to jump to comments…
About the Author
Peter Krauth is the Resource Specialist for Money Map Press and has contributed some of the most popular and highly regarded investing articles on Money Morning. Peter is headquartered in resource-rich Canada, but he travels around the world to dig up the very best profit opportunity, whether it's in gold, silver, oil, coal, or even potash.