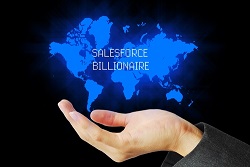 The Salesforce stock price is up 32.27% in 2015, and Money Morning Defense & Tech Specialist Michael A. Robinson remains extremely bullish on Salesforce stock as we head into 2016.
Salesforce.com Inc. (Nasdaq: CRM) is a cloud-computing company that specializes in customer-relationship management (CRM). Salesforce develops sophisticated software tools that allow sales representatives to manage how they interact with clients.
The cloud-computing company launched its first on-demand CRM subscription service in February 2000, and cloud subscriptions now account for 93% of sales.
Salesforce is part of the growing Software-as-a-Service (SaaS) industry, which Robinson expects will have tremendous sales growth.
"SaaS will hit $32.8 billion in sales in 2016," Robinson stated. "That's more than double the sector's $13.5 billion value just five years ago."
CEO Marc Benioff believes Salesforce will have $10 billion in annual sales in the next few years, and Robinson thinks the company could hit $8 billion in sales by 2016.
And part of the reason that Salesforce will reach $8 billion in sales is because Benioff is a visionary...
At the age of 15, the Salesforce CEO created a software company to publish his own video games. By age 16, he was earning $1,500 a month in royalties from his games. And just 10 years later, Benioff became CEO of Oracle Corp. (NYSE: ORCL).
But strong leadership is only part of the reason why the CRM stock price will reach record heights in 2016 and beyond...
You see, Robinson has identified an unstoppable trend that will allow current CRM shareholders to receive triple-digit gains on the Salesforce stock price in just over three years...