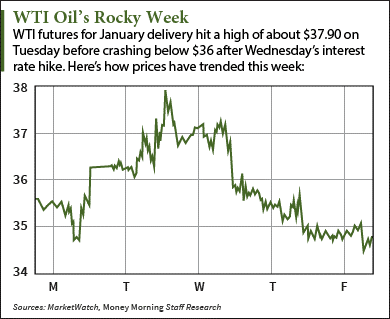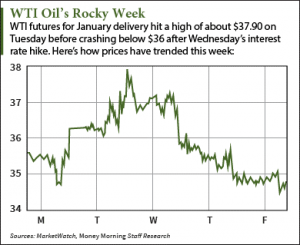 WTI crude oil prices today (Friday) were down 1.3% as the U.S. benchmark finishes out its third straight weekly loss. Crude oil prices have dropped 3.1% this week thanks to oversupply concerns and an interest rate hike from the U.S. Federal Reserve.
At 9 a.m., WTI crude oil prices today were trading at $34.50 a barrel. That marks the third session this week where prices have fallen below the critical $35 mark. They're currently down 42.5% for the year.
Brent crude oil prices fared even worse this morning. The global benchmark fell 1.5% to hit $37.07 a barrel. It's down 44.9% in 2015.
The decline in WTI crude oil prices today comes as investors cope with mounting oil inventories. On Wednesday, the U.S. Energy Information Administration (EIA) reported that U.S. oil supply increased by 4.8 million barrels last week. Analysts polled by Platts expected inventories to fall by 2.5 million barrels.
Today's fall is also a repercussion of the Fed's monumental decision to raise interest rates by 0.25% on Wednesday. It marked the first time in nearly 10 years the Fed raised the federal funds rate from its near-zero level.
Raising interest rates increases the value of the U.S. dollar. That lowers demand for dollar-denominated commodities like oil because they become more expensive to users of other currencies.
But Money Morning Global Energy Strategist Dr. Kent Moors says WTI crude oil prices today are only experiencing a knee-jerk reaction to the rate hike. In fact, prices are set for a long-term rebound in 2016 as global demand slowly creeps higher.
According to the International Energy Agency (IEA), global oil demand will reach 95.6 million barrels a day next year. That's up from the projected average of 94.2 million barrels a day in 2015.
"Energy demand elements are emerging that far outweigh the significance of any Fed move," Moors said in September. "Because while the fixation on a rise in interest rates continues, aggregate expected global oil demand is moving up regardless."
Alex McGuire is an associate editor for Money Morning who writes about energy. Follow him on Twitter for all the biggest oil and gas updates.
Like us on Facebook: Money Morning
Did Saudi Arabia Just Shoot Itself in the Foot? Low oil prices mean less revenue for OPEC's wealthiest nation – and even though Saudi Arabia has hundreds of billions in the bank, two new developments will chip away at those savings faster than ever…