The U.S. solar industry will continue to soar in 2016, and we've picked three solar penny stocks to watch for big gains in 2016.
The latest information from the Solar Energy Industries Association (SEIA) shows the U.S. solar industry installed 1,393 megawatts (MW) of solar capacity in Q2 2015. That was the highest Q2 total in U.S. history.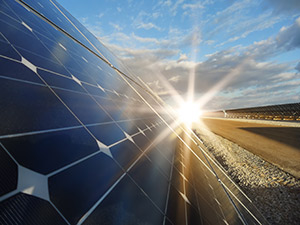 Through the first half of 2015, the solar industry supplied 40% of all new 2015 electric generating capacity - more than any other energy technology. With over 135,000 installations in the first half of 2015, nearly 784,000 U.S. homes and businesses have now gone solar. A new solar project was installed every 2 minutes in the first half of the year.
And that increased production even came at a time when energy prices were trading at multiyear lows.
Sign up for SMS so you never miss special events, exclusive offers, and weekly bonus trades.
You see, during most bear oil markets (like the one we have now), demand for alternative energy sources like solar tends to wane. Cheaper oil and gas make a switch to solar less appealing.
But that hasn't been the case this year.
"We haven't experienced that customary stagnation in this market," Money Morning Global Energy Strategist Dr. Kent Moors said. "In fact, the opposite is true, and alternatives have begun a long, steady rise. This is no fleeting market blip, though. Alternative energy, led by solar, is here to stay."
That's why we're targeting solar stocks in 2016. However, it's always important to remember that investing in penny stocks can be risky. While they can bring huge profits in a short time period, they can also be highly volatile.
That's why Money Morning experts advise that penny stocks should only represent a small percentage of any portfolio. In fact, one stock should never account for more than 2% of your investing capital.
But if you're willing to take on some risk while looking for a huge profit opportunity, here's a look at three promising solar stocks to watch in 2016...