The Nike stock split takes place Wednesday, Dec. 23, and the deal will provide investors with two shares of Nike Inc. (NYSE: NKE) for every one they already hold.
The Nike stock split is payable to shareholders of record as of the close of business Dec. 9. Shares will begin trading at the post-split price on Dec. 24.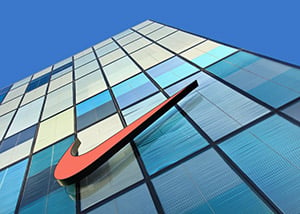 The stock split will increase the amount of both Class A and Class B shares on the market. After the Nike stock split, there will be 353 million Class A shares and 1.36 billion Class B shares on the market.
This marks the seventh time in Nike's history it has split shares. The last Nike stock split was in December 2012. All Nike stock splits to date have been 2-for-1.
With the split, Nike shares will become much more affordable to investors. A 2-for-1 stock split halves the price of shares. That means Nike shares will trade around $65 post-split, based on today's midmorning session price of $130.
But the question on investors' minds now is "should I buy NKE following the Nike stock split?"
Here's how we recommend playing Nike stock now…
Why NKE Should Climb Following the Nike Stock Split
Nike is the clear leader in the growing sports and athleisure wear industry.
Over the last five years, Nike has logged revenue growth of 10%. CEO Mark Parker, Fortune's 2015 Businessperson of the Year, recently said Nike expects its sales growth to be even higher over the next five years.
Nike will report fiscal Q2 results on Tuesday. The company is expected to post earnings per share of $0.86 on revenue of $7.81 billion for the quarter ending Nov. 30. That should easily top the EPS of $0.74 on revenue of $7.38 billion from the same quarter a year ago.
And that's not the only reason to be bullish on NKE following the Nike stock split…