The Valeant Pharmaceuticals International Inc. (NYSE: VRX) stock price has come under pressure yet again this week following a new downgrade and significantly lowered company guidance.
Late last week, Valeant lowered its Q4 outlook and guided Q1 fiscal 2016 sales and earnings below Wall Street estimates.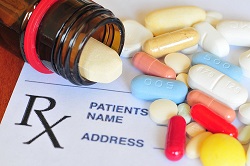 The VRX stock price has now fallen 8.7% since Thursday, Dec. 17.
Valeant reduced its Q4 earnings per share (EPS) guidance to $2.55 to $2.65 from $4.00 to $4.20. Sales estimates were lowered to $2.7 billion to $2.8 billion from $3.25 billion to $3.45 billion.
The company said it lost approximately 20% of its prescriptions in Q4 due to a disruption in its pharmacy relationships. Valeant also lowered its full-year 2016 EBITDA to $6.9 billion to $7.1 billion from $7.5 billion.
Following the uninspiring update, Mizuho analyst Irina Koffler slashed her rating on Valeant to "Neutral" from "Buy."
A number of analysts have recently trimmed their ratings on Valeant stock. What makes the Koffler downgrade notable is that she was the sole Wall Street analyst to upgrade the besieged company in October when the Valeant stock price tumbled.
Valeant shares have been under pressure since mid-September.
The VRX stock price dropped after a federal investigation into its drug-pricing practices and a scathing report from short-seller Citron Research over its relationship with specialty pharmacy Philidor Rx. Citron went as far as to liken Valeant to Enron. Following all the damaging press, pharmacy benefits managers CVS Health, Express Scripts, and United Health OptumRX announced they would stop working with Philidor and Valeant.
The Valeant stock price caught a modest bid last week when the Canadian drug giant secured a deal to distribute some of its medicines through Walgreens Boots Alliance Inc. (Nasdaq: WBA) pharmacies.
But the good news was short-lived, and the VRX stock price fell more than 8% on Thursday and Friday.
We've been warning investors about the Valeant stock price for months and remain bearish into 2016…