They finally did it. The Fed finally raised rates… and the gold price didn't collapse.
I've been saying for some time that this Fed rate hike was so widely expected, it was nearly completely priced in already.
So now that the big news is behind us, we can actually analyze it, see how gold reacted, and look to what it could mean going forward, with only about six trading days left before 2016…
Gold Price Rebounds After Fed Rate Hike
For nearly the past year, and certainly the past week and a half, it's been all about the Fed rate hike – which is really quite silly when you come right down to it. Because the U.S. Federal Reserve upped rates from 0.25% all the way to 0.5%. From basically zero to almost zero, with no set schedule or size of future hikes being telegraphed.
Fed Chairwoman Janet Yellen promised that it was all a moving target, with future hikes to be determined by what the data tells them about the economy and inflation… We'll see.
In any case, we do know what happened to the gold price. Here's a look at how it has behaved since the rate hike: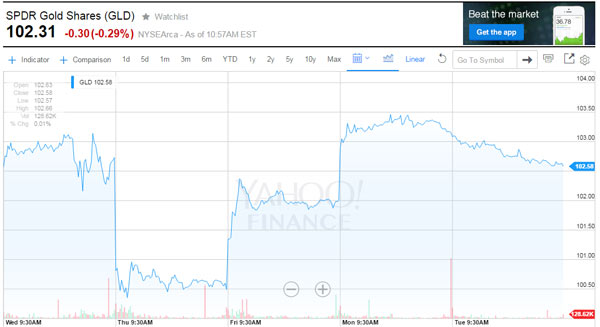 Last Wednesday the gold price rose strongly, likely in anticipation of the rate hike. Now while this might seem counterintuitive, it's likely a case of relief that the darned thing was finally going to be behind us and that, in fact, a 0.25% increase is really not all that significant. Who'd have thought?
Anyways, gold shot up just after 8 a.m. from the $1,065 level to quickly reach $1,074, then continued to climb to $1,078 just before 2 p.m. Gold then reversed to $1,068 as the actual rate hike announcement was made public, and within an hour had regained the $1,076 level.
As the details of the announcement were being digested, gold again reversed to $1,068, but soon regained $1,072, for a $7 gain on a day everyone seemed frightened would crush gold prices.
Meanwhile, the U.S. Dollar Index was rising last week before the Fed meeting. Its gains flattened on Thursday and Friday.
So despite the rate hike that so many worried would crush the gold price, it turned out to be a non-event last week.
What's more, if you look at a three-month chart of the DXY, it certainly looks like the dollar may have peaked at just over 100 earlier this month: 
Join the conversation. Click here to jump to comments…
About the Author
Peter Krauth is the Resource Specialist for Money Map Press and has contributed some of the most popular and highly regarded investing articles on Money Morning. Peter is headquartered in resource-rich Canada, but he travels around the world to dig up the very best profit opportunity, whether it's in gold, silver, oil, coal, or even potash.