The Chipotle stock price has dropped another 14% in the last week and is now down more than 40% in the last three months. And that may just be the start for the Chipotle stock price drop…
At least in the near term, shares of Chipotle Mexican Grill Inc. (NYSE: CMG) will continue to be under pressure.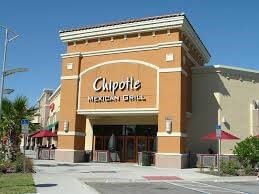 The fast-casual food chain reported Wednesday that earnings and sales for Q4 2015 will come in far below forecasts provided in December. And the Chipotle stock price continues to decline amid October and November illness outbreaks linked to its restaurants.
According to a U.S. Securities and Exchange Commission filing on Wednesday, Chipotle disclosed that same-store sales were down 30% in December. Same-store sales are for locations open for at least one year.
Same-store sales are now expected to decline 14.6% in Q4. The company previously expected same-store sales to fall by 8% to 11% during the quarter.
The serious sales slump comes on the heels of an outbreak of E. coli tied to the restaurant chain and reports of a norovirus outbreak at a location near Boston College in Massachusetts. The cause of the E. coli outbreak has not yet been identified.
Chipotle said it expects $14 million to $16 million worth of charges related to the E. coli outbreak, including replacing food at some locations and analyzing food samples in labs.
Earnings per share (EPS) for Q4 are projected to come in at $1.70 to $1.90. That's down from earlier EPS estimates of $2.49 a share. Chipotle will report sales for the quarter and full year on Feb. 2.
In addition to the glum Q4 guidance, the company's forward outlook is dreary. Chipotle said sales trends "may be significantly influenced by further developments."
That wasn't the only glum news Chipotle shared Wednesday. Here's another reason why the Chipotle stock price is dropping today…
Problems Mount for the Chipotle Stock Price
The company also said it was served in December with a grand jury subpoena related to a norovirus incident at a Simi Valley, Calif., restaurant in August.
The subpoena is connected to a criminal investigation being conducted by the U.S. attorney general's office in California in conjunction with the U.S. Food and Drug Administration's Office of Criminal Investigations.
Under the subpoena, Chipotle must provide a broad range of documents related to the restaurant that experienced the norovirus incident. Chipotle is cooperating with the investigation.
Chipotle said it couldn't yet estimate any penalties it might incur related to this investigation.
The illness incidents have not only been costly for the Chipotle stock price, they have also shattered its once stellar reputation.
Chipotle has implemented new food-safety measures. Steps include high-resolution testing of ingredients and enhanced training for restaurant employees. In December, Chipotle founder and co-Chief Executive Steve Ells published an open letter to customers in about 60 newspapers across the United States apologizing for outbreaks that have sickened people.
Still, many loyal Chipotle customers are staying away. Many say they will never return to Chipotle.
That's why the Chipotle stock price continues to get walloped and may never again see its high of $758.81.
Chipotle shares fell more than 4%, or nearly $20, to a new 52-week low of $428.08 intraday Wednesday.
Stay informed on what's going on in the markets by following us on Twitter @moneymorning or liking us on Facebook.
The Gold Mining Revolution: Technological advancements in gold mining have been stagnant, but one tiny Canadian company is about to change that. Its special extraction method will slash production costs and send gold prices soaring. In fact, this nano cap could disrupt the entire industry…
Related Articles: