Etsy Inc. (Nasdaq: ETSY) will release its full-year and Q4 earnings report on Wednesday, Feb. 24. And we expect the ETSY stock price to continue falling after the company posts its fourth quarterly loss in a row.
Etsy stock is down 75% in the last 12 months, and there are two long-term factors that will pull shares even lower in 2016.
But first, here's a recap of the handmade craft marketplace's tumultuous first year as a public company and what analysts expect from this earnings report…
Etsy Stock Is Plagued by Horrible Earnings and Scared Investors
Etsy is expected to report another quarterly loss today. Analysts project a loss of $0.01 per share on revenue of $86.7 million.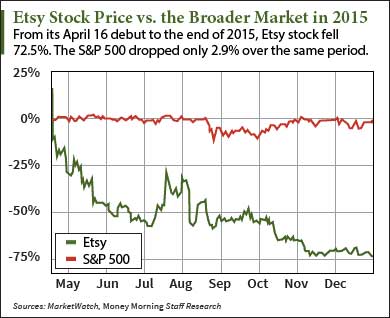 In 2015, the Etsy stock price was obliterated by a series of bad earnings reports. Last quarter, the company posted a loss of $0.06 per share on revenue of $65.7 million. During Q1 and Q2, Etsy lost $0.84 per share and $0.07 per share, respectively.
As a result, shares crashed 72.5% during its first eight months on the market. They're down 6.1% already this year and closed at an all-time low of $6.65 one week after the company's IPO lockup expired last month…
You see, an IPO lock-up is the period of time after a company goes public in which early investors, like founders and venture capitalists, can't sell their shares of the stock. It prevents people with large stakes in the company from flooding the market with shares during the company's initial trading period.
Once the lock-up ended on Jan. 20, investors breathed a sigh of relief as they sold their stakes in one of the worst-performing IPOs of 2015. After skyrocketing 87.5% to $30 a share on its first day last April, Etsy has since plummeted 78.6%. That's considerably worse than the average 4% decline for all IPOs last year, according to Renaissance Capital, a manager of IPO-focused ETFs.
But three consecutive quarterly losses and the sell-off by institutional investors aren't why Etsy has a volatile future ahead of it.
Here are two bearish factors that will ruin Etsy stock in 2016 – including one $43.2 million problem that won't disappear anytime soon…
Two Reasons Why Etsy Stock Will Keep Falling in 2016
The first reason the Etsy stock price is doomed is because the company will soon live in the shadow of its newest and biggest competitor – Amazon.com Inc. (Nasdaq: AMZN).
In October, Amazon launched "Handmade" – an online marketplace for artisan goods similar to Etsy. Forbes reported about 80,000 items from 5,000 sellers in 60 different countries went live on Handmade on its first day alone.
Handmade is Etsy's perfect threat. After all, Amazon has 13 times as many users as Etsy as of November 2015.
But Etsy's second nail in the coffin is its B Corp. certification…
You see, B Lab is a nonprofit that awards B Corp. certifications to companies demonstrating social and environmental awareness. Etsy's B Corp. initiatives include paying part-time employees 40% above local living wages and composting food waste.
However, these values jeopardize Etsy's profitability. That's because the company prioritizes community well-being over financial success – a system that goes against everything Wall Street stands for.
"There's a realization that corporations don't actually have to put short-term shareholder gain above all else," Edward Lawler, a business professor at the University of Southern California, said to The New York Times in April 2015. "More people are saying: 'We have a right to ask more of our corporations, and they should not exist simply to generate profit.'"
While that may entice customers, Etsy stock's 75% fall clearly shows investors haven't been receptive to this strategy.
The Bottom Line: There seems to be no bottom in sight for the Etsy stock price. With Amazon's new "Etsy killer" and a nonchalant attitude toward financial stability, Etsy stock is nowhere near worthy of your portfolio. We recommend avoiding Etsy stock in 2016.
Alex McGuire is an associate editor for Money Morning. Follow him on Twitter at @AlexMcGuire92.
Like us on Facebook: Money Morning
The Five Most Important IPOs to Watch in 2016… Last year, only 169 companies raised $30 billion in IPO proceeds. That's the lowest amount of money raised since 2009. But there are five highly anticipated IPOs that will surely outperform the markets and reward investors in 2016…
Related Articles: