Investors anxious about how long bear market 2016 will last can take some comfort in looking at the 2016 earnings forecast.
That may seem puzzling at first, since we're currently sitting in the trench of an earnings recession. But bear with me.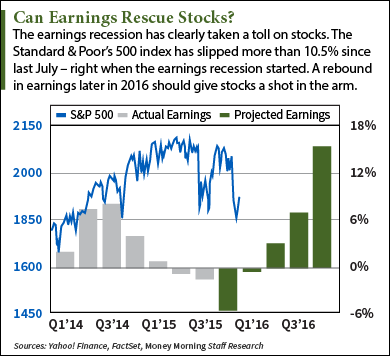 According to FactSet, the aggregate earnings for the Standard & Poor's 500 Index fell 0.7% in Q2 of 2015 and 1.5% in Q3. And now, with 40% of the S&P 500 companies having reported Q4 earnings, FactSet projects we'll see an ugly 5.8% drop for the December quarter.
Two consecutive quarters of declines makes an earnings recession. Companies haven't endured three straight negative quarters since 2009.
And we're headed for a fourth consecutive negative quarter. FactSet projects the Q1 S&P 500 earnings will slip 0.6%.
Earnings is the primary driver of stock prices. The recent market volatility started in the summer, at just about the same time as the earnings recession. The 2016 bear market has sliced about 11% from the S&P 500 Index since then.
Given other factors dragging down the market – concerns about slowing growth in China, rock-bottom oil prices, heavy amounts of corporate and sovereign debt – the ongoing earnings recession means bear market sentiment is likely to endure at least through spring.
Once things finally turn around, though, the forecast is for a healthy rebound.
This Will Signal a 2016 Bear Market Ending
FactSet sees the earnings recession ending in Q2 with a modest 3.1% increase. But after that, watch out. Forecasts project the S&P 500 will enjoy a 6.3% rise in Q3 and an impressive 13.6% pop in Q4.
Even if other issues linger (such as concerns about China), the recovery in earnings growth will inject new life into the markets. Now, it must be noted that FactSet is always revising its forecast, and the earnings growth it sees now might well be lower.
But the key here is that when earnings growth starts accelerating to the upside, the bear market will lose its grip.
In the meantime, investors don't have to sit on the sidelines. Looking at FactSet's data sector by sector, you can get a clear sense of where to look for winners – as well as what to avoid…
How to Survive the Bear Market
Bear market 2016 has stood out as unusual in that some sectors have fared much worse than others.
The energy sector, of course, has been the main culprit behind the earnings recession. FactSet estimates Q4 2015 earnings growth in the energy sector will plummet 78.6%. That follows a 56.8% drop in Q3, a 56.4% fall in Q2, and a 56.6% decline in Q1.
The current quarter (Q1 2016) will suffer another 68.7% drop. And for the year, FactSet sees energy earnings growth falling 42.8%.
But those losses mean opportunity. FactSet predicts energy will turn the tables in a big way in 2017, with earnings growth of 117%. That means investors should be sizing up bargains in energy now.
Money Morning Global Energy Strategist Dr. Kent Moors recommends looking at natural gas and the midstream service providers in particular.
One stock Moors likes is Cheniere Energy Inc. (NYSE: LNG). Cheniere will benefit as a U.S. exporter of liquefied natural gas and already has signed 20-year contracts with both European and Asian customers.
"Cheniere has pioneered a contract formula that guarantees a profit margin regardless of the transport costs – an impressive feat," said Moors.
Other Ways to Beat Bear Market 2016
The two sectors expected to show the most earnings strength in 2016 and 2017 are consumer discretionary and healthcare.
In consumer discretionary, a good pick is Netflix Inc. (Nasdaq: NFLX).
"Netflix is one of a small group of 'must have' members of the fast-growing 'tech ecosystem' – businesses that are experiencing zooming growth because of convergent technology trends and new consumer habits," said Money Morning Chief Investment Strategist Keith Fitz-Gerald.
In the healthcare sector, biotech is an excellent area to mine profits.
Ernie Tremblay, Money Morning's Biotech Investing Specialist, likes Neurocrine Biosciences Inc. (Nasdaq: NBIX) as a foundational play in this category. Neurocrine develops pharmaceuticals for the treatment of neurological and endocrine-related diseases and disorders in the United States. NBIX had a 72% gain in 2015, and Tremblay says it "promises to be a strong gainer in 2016 as it reaches regulatory milestones."
For the balance of 2016, the sectors that will see the slowest earnings growth apart from energy are materials (0.7%), industrials (1.7%), and financials (2.5%). Investors should stay away from these sectors for the next few quarters.
The Bottom Line: The earnings recession is driving the 2016 bear market. But the slump in earnings growth won't survive the summer, and then will reverse quickly. That will give the markets a much-needed jolt. Meanwhile, investors should be hunting for bargains in the sectors that figure to rebound the fastest: energy, consumer discretionary, and healthcare.
Follow me on Twitter @DavidGZeiler or like Money Morning on Facebook.
How 2008 Compares to 2016: For some investors, the market volatility over the past several months has brought on some bad flashbacks of the disastrous 2008 stock market crash. And prominent figures like billionaire George Soros have said the current turmoil reminds them of 2008. While bear market 2016 hasn't yet come close to the plunge of 2008, there are several similarities…