This whipsaw market has been one of the toughest for investors in recent history. In fact, plenty of investors are being wiped out.
It's nimble, agile traders who have the advantage here, now and most likely through the end of 2016.
But even seasoned traders are finding that conventional trading techniques aren't working as well as they first hoped. Their trading playbooks make for excellent paperweights or kindling these days.
Let them stay sidelined – we'll make that much more money on the stocks I'm about to show you.
These shares are moving in a very special way this month, so this is the perfect time to act…
Negative Correlation Is Your Friend Right Now
Shares like iPath S&P 500 VIX Short Term Futures ETN (TSE: VXX) and other inverse and leveraged inverse funds will always move in the opposite direction of the broad markets. That's fine, of course, and these plays can be very profitable, but most armchair traders know this, and that crowds the field – and the exits.
The biggest, easiest trading profits come from these shares that people are too afraid to touch… And they're afraid because they don't see what I'm about to show you.
This is real "lone wolf" territory…
You see, these stocks aren't going along with the crowd at all. Whatever the market has been doing over the past few days (which, for the time being, has been down, of course), these shares have gone hard against the grain.
And that's great news for a number of reasons, but perhaps the most important reason I've found is that these shares work with all of the other techniques that have been having such a tough time in this market: lagging indicators, fundamental and technical analysis, and seasonal patterns.
These will work much better and deliver bigger profits for traders than those other, crowded trades.
So here's the list of stocks and how they negatively correlate with the market; the lower the negative integer, the more the stock trades against the market's patterns.
Stocks with Negative Correlation for 2016
| | |
| --- | --- |
| Shares | Correlation % |
| iShares Barclays 20+ Year Treasury Bond ETF (Nasdaq: TLT) | -0.54 |
| SPDR Gold Trust ETF (NYSE Arca: GLD) | -0.48 |
| Barrick Gold Corp. (USA) (NYSE: ABX) | -0.33 |
| Guggenheim CurrencyShares Euro Trust (NYSE Arca: FXE) | -0.26 |
| iShares Silver Trust ETF (NYSE Arca: SLV) | -0.24 |
| United States Natural Gas Fund LP (NYSE Arca: UNG) | -0.09 |
| Market Vectors Gold Miners ETF (NYSE Arca: GDX) | -0.08 |
| Goldcorp Inc. (USA) (NYSE: GG) | -0.03 |
| Kinross Gold Corp. (USA) (NYSE: KGC) | -0.03 |
| Newmont Mining Corp. (NYSE: NEM) | -0.03 |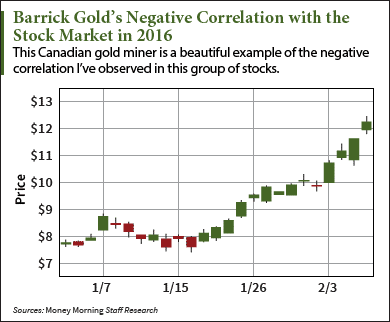 As I mentioned, the lower the negative integer, the more the security moves against the overall markets.
Now, it's very interesting to note here that the majority of shares on this list are gold stocks: gold miners and gold exchange-traded funds (ETFs). That's encouraging for people who hold gold anyhow, because for the first time in years, gold is slowly – but surely – regaining its attractiveness as the "currency of last resort."
I expect this to continue at least until the market stabilizes, and there's no sign of that happening anytime soon.
Non-Correlation Is Profitable (and Less Volatile), Too
Same as above, I take the last 30 days, but this time I'm looking for what we can call "random correlation."
This means that for the year 2016, I am looking for stocks that are moving up and down, but not moving in lockstep – at all ­- with the broad markets.
And here are the most attractive stocks for that approach.
Stocks with Random/Non-Correlation for 2016
| | |
| --- | --- |
| Shares | Correlation % |
| Cliffs Natural Resources Inc. (NYSE :CLF) | 0.017 |
| GoPro Inc. (Nasdaq: GPRO) | 0.03 |
| American Express Co. (NYSE: AXP) | 0.05 |
| SolarCity Corp. (Nasdaq: SCTY) | 0.08 |
| Best Buy Co. Inc. (NYSE: BBY) | 0.09 |
| Keurig Green Mountain Inc. (Nasdaq: GMCR) | 0.18 |
| Electronic Arts Inc. (Nasdaq: EA) | 0.18 |
| PowerShares DB U.S. Dollar Index Bullish (NYSE Arca: UUP) | 0.19 |
| MannKind Corp. (Nasdaq: MNKD) | 0.22 |
| Macy's Inc. (NYSE: M) | 0.22 |
Look at Macy's Inc. (NYSE: M), for example. These shares have drifted higher throughout 2016 (so far), though not at all with the market.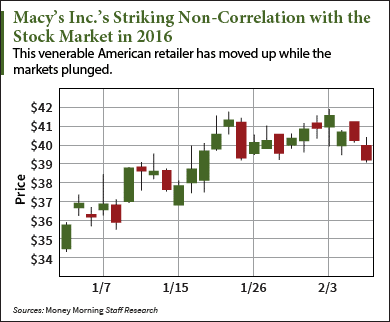 This shows why it's so important to set punditry and commentary aside and look at what's actually happening on the markets, even if it's not immediately obvious.
We're barely six weeks in to 2016, and it's already proven a most volatile year, but as always, there are some truly great trades to be made on these shares.
One of the best things about the shares on these lists is that they can offer significantly reduced beta, that is, they are in general less volatile than the overall market and can therefore offer reduced risk, too.
Follow Tom on Facebook and Twitter.
Now that you're armed with this special list of stocks, it's time to learn how to trade them for the maximum possible profit. Twice each week, Tom is showing his Power Profit Trades readers how to make trades just like this – and a lot more. Click here to start getting Power Profit Trades for yourself. There's never a charge for Money Morning Members, and you'll get his latest investor briefing on how to double your money on one of the world's biggest, most valuable companies.
Join the conversation. Click here to jump to comments…
About the Author
Tom Gentile, options trading specialist for Money Map Press, is widely known as America's No. 1 Pattern Trader thanks to his nearly 30 years of experience spotting lucrative patterns in options trading. Tom has taught over 300,000 traders his option trading secrets in a variety of settings, including seminars and workshops. He's also a bestselling author of eight books and training courses.