Global stocks officially entered a bear market, a decline of 20% or more from a recent high, Thursday. Still, the top penny stocks all delivered double-digit gains this week even with the broader markets falling...
The best penny stocks can post hefty returns in short periods of time. This week's top penny stocks all brought investors double-digit gains in a matter of days.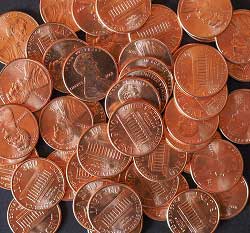 But penny stock investing can be risky for investors who haven't done the proper research.
While some penny stocks can bring huge profits, they can also bring big losses and high volatility. That's why Money Morning experts advise that penny stocks should only represent a small percentage of any portfolio. And one stock should never account for more than 2% of your investing capital.
Money Morning Chief Investment Strategist Keith Fitz-Gerald says the key to finding the best penny stocks in 2016 is no different than finding other great investing opportunities. You need to know what to look for and have the right risk tolerance and perspective.
That said, here are the top five penny stocks this week and the double-digit profits they saw. One is up 192% in 2016 alone...
Top Penny Stocks No. 5: Histogenics Corp. (Nasdaq: HSGX)
 Histogenics Corp. (Nasdaq: HSGX) develops and commercializes regenerative medicine products for the musculoskeletal market. Its product candidates includes NeoCart, which is in phase 3 clinical trials. NeoCart is a first-line therapy for full-thickness knee chondral lesions in adults ages 18 to 55. Shares rose 13.79% to $2.64 Wednesday after presenting at the 18th Annual BIO CEO & Investor Conference. Canaccord Genuity has an $8 price target on the stock.
Continue reading for the rest of this week's top penny stocks, including one that is up 192% in 2016...

Top Penny Stocks No. 4: Energy Transfer Equity LP (NYSE: ETE)
Energy Transfer Equity LP (NYSE: ETE) provides diversified energy-related services in the Unites States. It owns and operates approximately 7,700 miles of natural gas transportation pipelines, three natural gas storage facilities in Texas, and approximately 12,800 miles of interstate natural gas pipeline. The company is in the midst of merging with Williams Cos. Inc. (NYSE: WMB) to create an enviable energy giant. But both companies' share prices have tanked since the merger was announced last September amid the rout in the energy sector. Yet rumors this week that the deal is moving ahead pushed ETE up 12.84% to $4.47 Tuesday and another 3.26% Friday to $5.70. ETE stock is now up 41% since Tuesday.
Top Penny Stocks No. 3: Argos Therapeutics Inc. (Nasdaq: ARGS)
Argos Therapeutics Inc. (Nasdaq: ARGS) is a biopharmaceutical company focused on the development and commercialization of personalized immunotherapies for cancer treatments and infectious diseases. Shares have been trending higher on increased volume since late December after announcing it entered into an agreement with Cellscript. Shares got an additional boost in late January after appointing Dr. Lee Allen as Chief Medical Officer. Allen most recently served as CMO for Spectrum Pharmaceuticals. He has held executive-level positions with AMAG Pharmaceuticals, Wyeth Research, Pfizer, and BASF's Knoll Pharmaceuticals. Shares rose 18.59% Tuesday to $4.53. ARGS shares have climbed 24% this week and 68% in 2016.
Top Penny Stocks No. 2: Groupon Inc. (Nasdaq: GRPN)
 Groupon Inc. (Nasdaq: GRPN) operates online local commerce marketplaces connecting merchants to consumers via discounted offers. The company went public in 2011 at $20 a share. It was the largest IPO by a U.S. Internet company since Google debuted in 2004. GRPN shares opened at $28, then floundered over the next couple years. Increased competition and an antiquated business model have weighed on shares in recent years. But late Thursday, GRPN reported strong Q4 earnings and revenue. The company added it enjoyed a robust holiday season. Topeka and RBC Capital Markets reiterated their "Hold" and "Sector Perform" ratings, respectively, after the report. Both have a $4 price target. GRPN shares jumped 28% to $2.87 Friday morning.
Top Penny Stocks No. 1: Harmony Gold Mining Co. (NYSE ADR: HMY)
Harmony Gold Mining Co. (NYSE ADR: HMY) engages in gold exploration and mining in South Africa and Papua, New Guinea. The company also explores for copper, silver, uranium, and molybdenum deposits. HMY shares rose 15.55% to $2.75 Thursday as gold prices jumped to their highest level in a year. Spot gold rose $53.20, or 4.45%, to $1,247.90 as global markets fell into a bear market. Gold prices are up nearly 18% year to date, making the metal one of the top performers of 2016. Since the start of 2016, this penny stock has soared 192%.
Stay informed on what's going on in the markets by following us on Twitter @moneymorning or liking us on Facebook.
The Essential Guide to Buying Gold and Silver: Precious metal investing is widely regarded as the best "crisis insurance" for your portfolio. This guide gives you everything you need to know about the best stores of value in history, gold and silver. Read more...