After a six-month slide, Apple stock really needs some good news – and looks like it will get it in March.
While not officially announced, it is widely expected that Apple Inc. (Nasdaq: AAPL) will on March 21 introduce a new 4-inch model of the iPhone – the so-called iPhone 5SE – as well as the iPad Air 3, the next generation of that device.
The iPad Air 3 is expected to add some features introduced with last year's iPad Pro, like Apple's Smart Keyboard (appropriately sized, of course).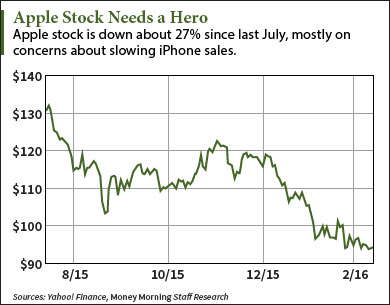 But it's not a new iPad model that will rescue AAPL stock. Unit sales of the iPad have been slipping at best and would only slow the bleeding in this product category. The numbers were down 25% year over year in the December quarter.
No, if Apple stock is to shake out of the doldrums, it needs help from its flagship product line, the iPhone. The iPhone, after all, contributes about two-thirds of Apple's revenue. As the iPhone goes, so goes Apple stock.
Throughout the fall, concerns about iPhone sales dragged down Apple stock. Since last July, the Apple stock price is down 27%. In 2016 alone, AAPL stock is off by nearly 9%.
Investors were disappointed not only in the anemic growth of iPhone sales last quarter – less than 1% – but in Apple's guidance for the current quarter. CEO Tim Cook said he expects iPhone sales for Apple's fiscal Q2 to decline year over year for the first time ever.
That set off alarm bells. Some analysts went so far as to claim Apple had reached "peak iPhone." They said that without a major new product category to drive growth, Apple will get slapped with the "value stock" label.
While Apple stock surely would benefit greatly from a brand-new product category, the iPhone thoroughbred isn't as washed up as some believe.
It's possible that a blockbuster iPhone 7 could rejuvenate sales. But even if the iPhone 7 does prove to be a big deal, it won't go on sale until late September – seven months away.
The iPhone SE, on the other hand, is just a few weeks away.
Here's why this throwback model has the potential to recharge iPhone sales growth much sooner – and breathe life back into the AAPL stock price…
What the iPhone 5SE Will Do for the Apple Stock Price
A 4-inch iPhone hardly seems like the sort of thing that could bring renewed growth to the iPhone family.
After all, wasn't it the larger screen sizes of the iPhone 6 models that spurred record sales? Why go backwards in screen size?
While larger-screen Android phones and the iPhone 6 and 6S have proven that size matters to smartphone consumers, it didn't quite prove that no one wants a phone with a 4-inch screen.
In other words, fans of 4-inch screens have almost no options right now – a handful of older Android phones as well as the outdated iPhone 5S, which Apple still sells as its budget model.
The iPhone 5SE, according to well-respected Apple news site 9to5Mac, will house the powerful A9 processor, better cameras, and other goodies from the iPhone 6S models in the iPhone 5's trim 4-inch form factor.
Apple is expected to keep the pricing the same ($450 for a 16GB version), but should be able to maintain high margins through the re-use of the existing iPhone 6 technology.
Suddenly the iPhone 5SE isn't a phone you have to settle for, but a device in the ballpark, capability-wise, with its larger-screened cousins.
This Underserved Market Will Reverse the AAPL Stock Momentum
That means the iPhone 5SE will appeal to budget consumers still attracted by the Apple brand as well as those who simply prefer to carry a smaller smartphone.
Such customers might live in the United States… or China… or India, the fastest-growing smartphone market in the world.
While still not as cheap as the low-end Android phones, the iPhone 5SE makes Apple competitive in the next tier down from the high-end iPhone 6S models.
That the Android handset makers have all but abandoned the 4-inch screen gives the iPhone 5SE a unique selling point.
The appeal of the iPhone 5SE – a smaller, more affordable phone with most of the features of its more expensive cousins – should be enough to shave at least a point or two of global market share from Android.
It's not much of a stretch. The iPhone currently has a global market share of 16%. Just an additional two percentage points equals an increase in annual iPhone unit sales of about 28 million to 30 million. And that equals about $14.5 to $15 billion in additional revenue.
With the iPhone 7 expected to recharge higher-end sales later this year, this one-two punch could put iPhone sales growth back into the double digits in the December quarter.
That would renew investor confidence in Apple stock and shift the momentum back to positive.
AAPL stock is oversold enough that it wouldn't take much to turn sentiment around. The price/earnings ratio is just 10.27 right now, about half of that for the Standard & Poor's 500 Index. And despite a lot of downgrades, the one-year Apple stock price target is $135.92 – a 41% gain over the current price of $96.60.
Follow me on Twitter @DavidGZeiler or like Money Morning on Facebook.
How to Play Tech in China: Worries about slowing Chinese growth ignore the fact that China still has many years of strong growth ahead of it – growth that will feed hefty profits in tech. The problem for investors is figuring out just how to tap into this tantalizing combination. Fortunately, Money Morning Defense & Tech Specialist Michael A. Robinson has found a way…
Related Articles: