Biotech stocks have stalled in 2016 along with the broader markets, with the iShares Nasdaq Biotech ETF (Nasdaq: IBB) down 24.43% year to date.
Still, Money Morning Biotech Investing Specialist Ernie Tremblay says the sector will outperform in 2016. And he's pinpointed one foundational play that's already climbed 14% in the last five days.
But first, here's why biotech stocks are presenting a huge opportunity right now…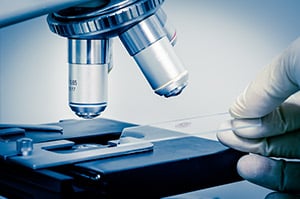 Aside from the global stock market sell-off, biotech stocks have suffered in early 2016 because of the potential for regulatory policy changes that could affect drug prices. According to Tremblay, there's no avoiding the problem.
"As long as government plays a role in medicine, politics will remain one of the variables that drives biotech stock volatility," Tremblay explains.
But he also believes that the case for biotech stocks remains as strong as ever. Compelling new research, pioneering new therapies, and game-changing new drugs in development will drive the industry over the next decade and beyond.
"Biotech is in the midst of its longest bull run in history, and there's every reason to expect it will remain an attractive outperformer this year," Tremblay said.
You see, even though the IBB exchange-traded fund (ETF) is down 24% year to date, it's still up 173% in the last five years. That compares to a gain of just 31% for the Dow Jones in the same time.
"But biotech can be one of the toughest sectors to crack for profits," Tremblay continued. "We must know which shares offer superior returns over time, and it's important to know when to buy, too."
Diversity is crucial in biotech investing, too. Tremblay advises investing only a small amount (1% to 2%) of your investable funds in any single position, and to spread the risk over a number of stocks.
And as markets have shown, biotech stocks can be volatile.
"Small- to mid-cap companies (greater than $200 million and less than $2 billion), where you can make the most money while maintaining liquidity, are vulnerable to many unpredictable market forces and can take you on a roller-coaster ride of red to green and back again," Tremblay said.
Over the long term, the key to investing in biotech stocks is finding companies with a diversified pipeline, up-and-coming treatments, and importantly, to spread the risk.
"Companies that have several drugs in advanced-stage development provide the best balance between risk and reward," Tremblay said. "The failure of one drug won't mean the end of the company, and they offer multiple chances for big successes."
And Tremblay has one biotech pick that meets these criteria for 2016. Here's the stock, and why it has climbed nearly 14% in the last week alone….
Biotech Stocks 2016: Our Top Pick for Market-Beating Profits
Neurocrine Biosciences Inc. (Nasdaq: NBIX), a $3.83 billion cap company, is one of Tremblay's favorite biotech stocks to buy for 2016.
Headquartered in San Diego, Calif., NBIX develops pharmaceuticals for the treatment of neurological and endocrine-related diseases and disorders in the United States.
Its promising pipeline candidate in clinical development stage is elagolix. Elagolix is now in a phase 3 study for endometriosis and in a phase 2b study for uterine fibroids.
This mid-cap biotech company also has several other drugs in the pipeline to treat endocrine system and central nervous system disorders.
"NBIX shares rose from about $33 to $57 per share in 2015, a 72% gain, and despite falling off some in the early part of this year, along with the rest of the stock market, still promises to be a strong gainer in 2016 as it reaches regulatory milestones," Tremblay said.
Stay informed on what's going on in the markets by following us on Twitter @moneymorning or liking us on Facebook. 
Related Articles: