Wal-Mart stock is outperforming the Dow Jones Industrial Average this year, having climbed 8% compared to a loss of 6% for the Dow. That's left investors wondering if they should buy Wal-Mart stock after earnings.
But before we get into whether Wal-Mart stock is a good investment in 2016, here's what to look for in tomorrow's (Thursday) Wal-Mart earnings report…
Wal-Mart Stores Inc. (NYSE: WMT), which also operates Sam's Club, is scheduled to report Q4 2015 results Thursday before the open.
Analysts are looking for earnings per share (EPS) of $1.43 on revenue of $130.76 billion. In the same quarter a year ago, Wal-Mart posted EPS of $1.61 on revenue of $131.56 billion.
And several other numbers besides EPS and revenue could trip up Wal-Mart's Q4 2015 results.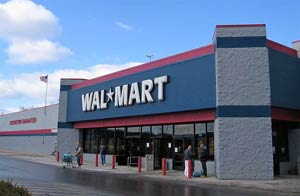 On the negative side, overall holiday retail sales were soft. The National Retail Federation reported 2015 holiday sales increased just 3% to $626.1 billion. Unforeseen weather events across the country weighed on foot traffic and sales.
Lower gas prices, however, could have a positive impact on Wal-Mart's latest results. That's because savings at the gas pump are particularly important to Wal-Mart's customer base.
In 2015, the average cost of a gallon of gas was roughly $0.94 lower than in 2014. The national average price of gas in 2015 was $2.40 per gallon. That was the second-cheapest annual average of the past decade.
While these figures will all be key heading into tomorrow's earnings report, there's a more important factor for WMT investors to watch. And it will have the biggest impact on the Wal-Mart stock price in the long term…
Wal-Mart Stock Will Rely on This One Number
The biggest issue ahead of earnings is Wal-Mart's slow entrance and dominance in the growing e-commerce space.
Wal-Mart currently gets just 3% of sales from its website. In comparison, Macy's Inc. (NYSE: M) gets 8%, Nordstrom Inc. (NYSE: JWN) gets 19%, and Neiman Marcus get 26%.
Then there's e-commerce goliath Amazon.com Inc. (Nasdaq: AMZN). In 2014, Wal-Mart's online sales were $12.2 billion compared to Amazon's $89 billion.
Amazon officially became more valuable than Wal-Mart last summer. On Aug. 28, Amazon had a market cap of $246.54 billion compared to Wal-Mart's $230.53 billion cap. The divide has grown wider with Amazon's market cap now at $260 billion versus Wal-Mart's $211.45 billion.
For that reason, we recommend avoiding Wal-Mart stock in 2016. And that's not the only reason why…
 In October, Wal-Mart provided uninspiring guidance that sent shares falling 12% to $59.20.
The drop was the sharpest decline for WMT stock in 25 years, wiping out $21.5 billion in WMT's market cap in a single day. Another set of weak guidance figures could send WMT stock lower tomorrow.
Behind the rout was the company's warning that growth over the next three years would be a lackluster 3% to 4%. The company also said profit could drop up to 12% in its next fiscal year.
Wal-Mart leaders also said they expect sales growth for the current fiscal year (ending Jan. 31) to be relatively flat.
Don't be surprised if Wal-Mart stock drops following a weak earnings report tomorrow. And because of the company's struggles in the e-commerce field, we recommend staying away from WMT stock this year.
Stay informed on what's going on in the markets by following us on Twitter @moneymorning or liking us on Facebook.
 Related Articles: