Fitbit Inc. (NYSE: FIT) will release Q4 earnings on Monday, Feb. 22. And we expect Fitbit stock to head higher after it reports another strong quarter.
Analysts expect the company to post $0.25 per share on revenue of $647.9 million for the fourth quarter. While that is only a slight increase from Q3 earnings per share of $0.24, it would be a huge increase from its Q3 revenue of $409 million. If Fitbit reports more than $0.25 per share, it will be the third consecutive quarter that the company beat analyst expectations.
Although the Fitbit stock price is down 46.3% so far this year, there's one factor that will send shares on a long-term rebound in 2016.
But first, here's why Fitbit stock has been so volatile since its market debut…
Fitbit Stock's Growth Has Been Hindered by Tech Sector Volatility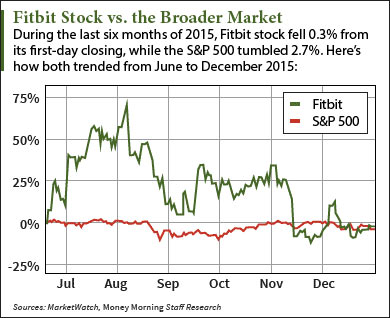 At first, investors widely embraced the fitness-related wearable tech company. Last June, the Fitbit IPO raised $732 million by selling 36.6 million shares for $20 each. Renaissance Capital, a manager of IPO-focused ETFs, reported it was the sixth-largest IPO of 2015 and the second-largest from the consumer sector, behind Univar Inc. (NYSE: UNVR).
The FIT stock price skyrocketed 47.2% during its first month on the market. It hit an all-time high of $51.64 a share on Aug. 5, 2015 – up 158% from the IPO price. But from there, shares cratered more than 40% through the end of the year.
And Fitbit stock's volatility has continued in 2016 due to the sudden free fall in the tech sector.
You see, fears of China's slowing economy have led investors to worry the world's second-largest economy will reduce demand for tech products. That's caused the tech-centric Nasdaq index to plunge 10.2% so far this year.
Despite the tech sector's drag on Fitbit stock, we see shares of the wearable tech company rebounding in the long term.
And this one reason shows exactly why we're bullish on FIT stock this year…
This Is Why the Fitbit Stock Price Will Move Higher in 2016
The reason why Fitbit stock is on track for a market-beating performance is the company's dominant market position. After all, U.S. News & World Report said Fitbit alone controls about 25% of the U.S. wearable tech market as of November 2015.
And the popularity of Fitbit products is even more significant when compared to the Apple Watch.
According to Bloomberg, Fitbit devices outsold the highly anticipated Apple Watch by a huge margin in 2015. During the second quarter, Fitbit sold 4.5 million products – a 162% increase from Q2 2014 – while Apple sold just 3.6 million watches.
Fitbit kept its lead in the third quarter by selling 4.7 million devices. That's 20.5% more than the 3.9 million Apple Watches sold. Fitbit's sales have been higher due to the low cost of its devices compared to its Apple Inc. (Nasdaq: AAPL) counterpart. After all, Fitbits cost between $50 and $200, while the cheapest Apple Watch is $349.
Its first two earnings reports clearly demonstrate Fitbit's edge over Apple in the wearable tech market. That's an incredible position to be in as wearables sales reach $20 billion this year, according to research firm IDTechEx. The growing wearable tech market is another indicator of Fitbit's bullish potential in 2016.
And analysts agree. In fact, Yahoo! Finance analysts give the Fitbit stock price a one-year target estimate of $36.84. That's more than double its previous close of $15.89 a share.
The Bottom Line: Fitbit's eight-month performance as a public company has been very volatile. Despite consistently strong earnings, Fitbit stock has suffered from broader volatility in the tech sector. But shares are set to rebound this year as the company benefits from its overwhelming position in the wearables market and strong sales growth over the Apple Watch.
Alex McGuire is an associate editor for Money Morning. Follow him on Twitter for all of the biggest Fitbit news.
Like us on Facebook: Money Morning
The Stock Buyback Con Game: Stock buybacks make sense for some companies, but not for all. These days, they're often used to manipulate stock prices – and they've hit record levels lately. What's driving this growth is dangerous for you and our economy…