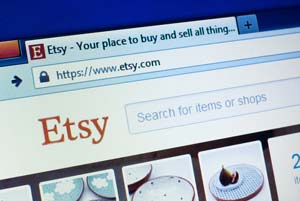 The Etsy Inc. (Nasdaq: ETSY) earnings report for the fourth quarter was released after the bell yesterday, Feb. 23. As expected, the online marketplace for handmade goods posted its fourth quarterly loss in a row.
But the Etsy stock price is up over 34% from its all-time low of $6.36 on Feb. 9. Today, it opened at $8.53. That has many investors wondering if they should snatch up shares before they begin a possible long-term rally.
Before we get into whether investors should buy Etsy stock, here's a recap of the Etsy earnings report and Etsy stock's volatility since its April 16 debut …
Why the Etsy Stock Performance Went from Bad to Worse
Etsy posted a loss of $0.04 per share for the fourth quarter of 2015. That's far worse than Wall Street's expectation of a slight profit of $0.01. Revenue came in at $87.8 million – beating the $86.7 million estimate. The company reported its number of active buyers increased from 20 million in 2014 to 24 million in 2015.
Last year, shares of Etsy stock were crushed by three quarterly losses in a row. Etsy lost $0.84 per share and $0.07 per share in Q1 and Q2, respectively. In the firm's most recent third-quarter report, it posted a loss of $0.06 per share on revenue of $65.7 million.
The ETSY stock price subsequently plunged 72.5% during its first eight months on the market. Shares have fallen 5.9% so far this year thanks in part to the expiration of the company's IPO lock-up in January…
You see, an IPO lock-up is the stretch of time after a stock starts trading in which early investors, like founders and venture capitalists, aren't allowed to sell their shares. It prohibits people with large stakes in the company from selling all their shares during the company's first three to nine months of trading.
Once Etsy's lock-up expired on Jan. 20, early investors breathed a sigh of relief as they sold their shares in one of the worst-performing IPOs of 2015. After climbing 87.5% to $30 on its April 16 debut, the Etsy stock price has since crashed 75.4%.
But the stock sell-off and four straight quarterly losses aren't why you should steer clear of Etsy in 2016.
In fact, there are two other reasons why Etsy stock will remain volatile over the long term – including one $43.2 million problem that's not going away soon…
Why You Shouldn't Buy Etsy Stock After Q4 Earnings
There are two important reasons why Etsy stock is a dangerous addition to your portfolio.
First, Etsy will soon live in the shadow of Amazon.com Inc.'s (Nasdaq: AMZN) new "Handmade" service.
You see, Amazon Handmade is an online marketplace for handmade crafts and goods similar to Etsy that was launched last October. Forbes reported about 80,000 items from 5,000 sellers across 60 different countries went live on the first day alone.
Handmade's immediate success makes it the perfect threat to Etsy. That's because Amazon has 13 times more users than Etsy as of last November.
Second, Etsy is B Corp. certified…
You see, B Corp. certifications are given to companies that employ social and environmental initiatives. For Etsy, these include paying part-time employees 40% above local living wages, offering employee bicycles, and composting food waste.
However, its B Corp. status directly jeopardizes Etsy's financial stability. The firm emphasizes community well-being over profitability – a system that goes against everything Wall Street stands for.
While that wholesomeness may entice customers, Etsy stock's tremendous decline clearly shows investors haven't embraced it the same way.
The Bottom Line: The rebound in the Etsy stock price this month has given investors hope that the troublesome company is starting a long-term rebound. But there's nothing but bearish obstacles ahead for Etsy stock. With the fierce competition of Amazon Handmade and a lack of concern toward its profitability, Etsy stock is one of the last things you want in your portfolio.
Alex McGuire is an associate editor for Money Morning. Follow him on Twitter for all of the biggest Etsy stock news.
Like us on Facebook: Money Morning
Tech IPOs Are in for a Volatile 2016… Only 23 tech companies went public last year. And 2016 is projected to be another bad year for the tech IPO market as big-name companies like Amazon and Apple endure a massive sell-off. Here's how bad tech IPOs suffered last year…