"Only at DHS can it make sense to reduce Border Patrol agents when our nation is facing threats from foreign and domestic terrorists, our communities are battling a heroin epidemic, and drug cartels are getting more violent as they battle to get their dangerous drugs and contraband into our country."
That's what Brandon Judd, president of the National Border Patrol Council, said of a recent Obama administration decision that "defies logic," according to Arizona Daily Independent…
You see, U.S. President Barack Obama and the Department of Homeland Security revealed on Feb. 4 a list of major Border Patrol budget cuts for fiscal year 2017. The phasedowns include:
A 50% budget cut for aerial surveillance along the U.S.-Mexico border
A proposal for 300 fewer active agents for border patrol duty than in FY 2016
A memo in the DHS budget request read as follows:
"The budget requests authority to achieve an onboard Border Patrol Agent target of 21,070 in FY 2017. This target reflects realistic agent hiring expectations and is 300 agents lower than the target provided in FY 2016 Enacted appropriation. The available pay resources from this lower level of staffing will allow CBP to invest in critical mission readiness assets, to include recapitalizing aging radios and vehicles. These investments will allow for better response times and improved resolution of incidents and incursions."
As to the aerial surveillance reduction, Republican Texas Gov. Greg Abbott and Rep. Henry Cuellar (D-TX) wrote to DHS Secretary Jeh Johnson:
"Any decrease in aerial observation is not only imprudent, but contradicts the very mission of border security enforcement," the Texans wrote, asking for additional information about the move they described as "unsettling."
Several more politicians and Border Patrol representatives piped up in regard to the proposal for 300 fewer agents.
In fact, Judd — our aforementioned National Border Patrol Council president — went so far as to accuse the Obama administration of attempting to undermine authority…
"The Obama administration, sadly, has made every attempt to dismantle, demoralize, and disrupt the Border Patrol and our mission to enforce our nation's immigration laws," Judd said. "Instead of supporting tougher enforcement to deter future waves of illegal entrants, the administration created phantom amnesty programs like DACA and DAPA, along with 'Catch and Release.' These programs have only resulted in more people crossing into our nation illegally."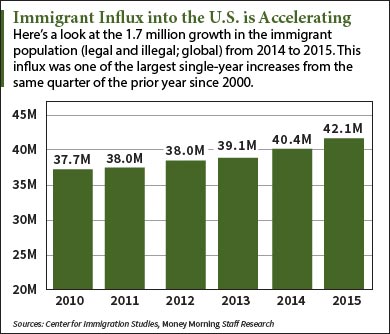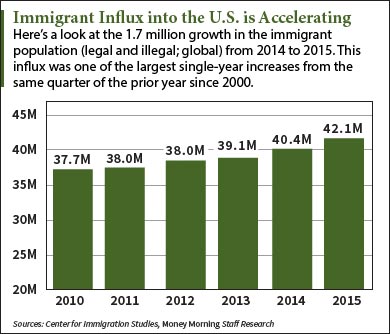 The White House/DHS proposed cuts follow U.S. Customs and Border Protection's Dec. 12 report on another surge in the number of undocumented immigrants crossing the southern border. From October to December 2015, roughly 10,566 unaccompanied minors entered Texas illegally through the Rio Grande Valley, a 115% increase compared to the same time frame in 2014.
Meanwhile, the number of family members crossing together has nearly tripled to 12,505.
For more information and updates on the proposed Border Patrol budget cuts, follow us on Twitter @moneymorning or like us on Facebook.
Beyond Obamacare: As controversial as Obamacare has been, it doesn't go nearly far enough for Bernie Sanders. His healthcare plan proposal, "Medicare for All," is essentially the single-payer type of system common in much of Europe and Canada. In short, the government runs the healthcare system, and everyone is covered for everything. Sounds great. But you'll be shocked when you see what it's going to cost…
Related Articles: