The Chipotle stock price was down 6% in early trading today (Wednesday) after the company suffered yet another setback.
And we think the Chipotle Mexican Grill Inc. (NYSE: CMG) stock price will continue to fall even farther in 2016 because of one massive bearish indicator.
Before we get to that, here's why the Chipotle stock price is tanking once again today…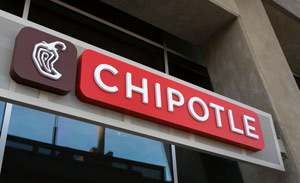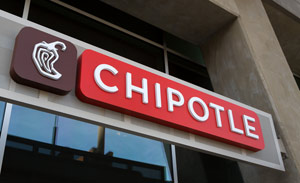 A Chipotle restaurant in Massachusetts has been voluntarily closed after four employees fell sick, possibly with the norovirus. Norovirus is a very contagious virus that can infect anyone, according to the Centers for Disease Control and Prevention (CDC). It spreads via an infected person, contaminated food or water, or by touching contaminated surfaces.
A Chipotle spokesman said the restaurant would undergo a "full sanitization" and that no customers have been reported sick.
Chipotle implemented new safety procedures last year after various locations dealt with multiple food-borne outbreaks, including several E. coli and norovirus outbreaks.
Still, the Chipotle stock price is down 31% in the last six months because of the outbreaks.
The new safety measures include testing fresh produce with DNA-based and end-of-shelf-life testing to ensure ingredients are safe. The restaurant chain also sought ways to improve its supply chain by measuring performance data of vendors and suppliers and enhancing employee training in food safety and handling.
Still, customer traffic at Chipotle chains across the country sharply fell off in the wake of the food scare.
Today's health scare is sending the Chipotle stock price lower again, but we see an even bigger trend that will continue to weigh on CMG stock…
The Biggest Reason to Be Bearish on the Chipotle Stock Price in 2016
Once a high-flying Wall Street darling, the Chipotle stock price is down 25% in the last year. CMG stock experienced most of the drop during November, but day-to-day volatility has continued.
In attempts to lure customers back, the chain recently launched an aggressive promotional program. Chipotle mailed and emailed coupons offering free entrees.
The efforts likely boosted traffic in recent weeks. But it came at the expense of "real sales," according to Credit Suisse.
Credit Suisse now expects Chipotle's same-store sales in Q1 to plunge 30%. That's down from a previously anticipated 25% decline. The firm also lowered its earnings-per-share (EPS) estimate for Chipotle. It expects an EPS loss of $0.21 instead of an EPS gain of $0.22.
That same-store sales figure will be extremely bearish for the Chipotle stock price throughout 2016.
Another bearish outlook comes from Deutsche Bank. Last month, the firm downgraded the stock to a "Sell" from "Hold." It also lowered its target expectations to $400, citing a lack of faith in the company's ability to recover.
"We still question what a recovery will look like (and when it will materialize)," Deutsche Bank analysts said in a February research note. They said that while management has been hands-on in "trying to regain consistency and customer trust, there is tremendous uncertainty on how well they will be received."
Chipotle warned earlier this year that sales trends "may be significantly influenced by further developments."
Companies like Chipotle pay for food safety transgressions in a variety of ways, and they can all impact the Chipotle stock price.
Some victims sue for damages.
Regulators take civil action. Chipotle revealed in January it was served with a grand jury subpoena in December related to a norovirus incident at a Simi Valley, Calif., restaurant in August. Under the subpoena, Chipotle must provide a broad range of documents related to the restaurant that experienced the norovirus incident. Chipotle said it couldn't yet estimate any penalties it might incur related to this investigation.
Sometimes criminal actions are involved.
Money Morning has been bearish on the Chipotle stock price for those reasons. Today's news just reinforces our stance.
The Chipotle stock price dropped more than $30 per share today, or roughly 6%. Shares touched an intraday low of $495.03.
Stay informed on what's going on in the markets by following us on Twitter @moneymorning or liking us on Facebook.
Solar Power Will Boom in 2016: Solar outperformed the rest of the energy market in 2015, and that trend shows no sign of slowing down. In fact, there's one incredible factor that will drive solar stocks to new highs in 2016. Here's the best way to play this skyrocketing industry…
Related Articles: