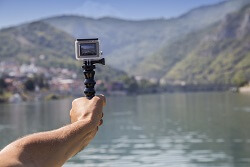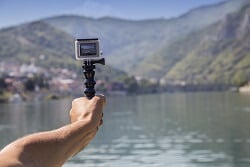 Yes, the GoPro stock price seemed to get a new catalyst when GoPro Inc. (Nasdaq: GPRO) announced a new partnership on March 10 with Fishing League Worldwide (FLW), the world's largest tournament-fishing organization.
Despite this partnership, Money Morning is still very bearish on the GPRO stock price. GPRO reached an all-time intraday low of $9.01 on Feb. 4, and it's down 69.3% in the last 12 months. And there is one major flaw that could send the GoPro stock price plummeting even further.
But before I get to that, here's the news that's moving the GoPro stock price this week...
GoPro cameras will be worn and promoted by the anglers in this year's FLW tournament. According to FLW President Trisha Blake, she believes that the fishing league can showcase the GoPro brand to the millions of outdoor enthusiasts her company reaches.
GoPro's newest device, the GoPro Karma Drone, will also cover the entire event. GoPro hasn't given an official release date for its drone, but the Walmart FLW Tour runs from February to October 2016. That gives the impression that the GoPro Karma should be ready well before the end of 2016.
The GoPro stock price has also been reacting to a mixed earnings report earlier this year...
In its Q4 2015 earnings report, GoPro slightly exceeded Wall Street's revenue expectations of $434.9 million by posting $436.6 million. However, an earnings per share (EPS) loss of $0.08 drastically missed expectations of $0.02.
For Q1 2016, GoPro projected revenue of $160 million to $180 million. That's 44.28% less than the $287.2 million some analysts had anticipated.
And that bleak outlook isn't the only reason we're bearish on GPRO. This one major flaw could send the GoPro stock price much lower in 2016...
The GoPro Stock Price Can't Overcome the Company's Biggest Flaw
Founder Nick Woodman started GoPro after a surf trip to Australia in 2002. Woodman wanted to capture high-quality action photos of his surfing, but photographers were limited by either how close they could get or the price of equipment needed.
After receiving a $230,000 investment from his parents and raising money himself, Woodman's new company sold its first camera in 2004.
When GoPro first appeared on the market, it was an innovative piece of technology that filled a need.
But since the company launched its first camera, GoPro's major flaw has been revealed: It has failed to innovate or improve its products...
While GoPro is a great way to capture an action moment, users have often complained that editing and sharing with the technology is a hassle. In today's social-media-centric world, that's a major issue...
GoPro just stated in February that improving its software for sharing and editing was a key priority. That's something the company should have focused on years ago.
GoPro did acquire two video-editing software companies, Stupeflix and Vemory, at the end of February, but it's troubling that this is just now a new priority.
Woodman's company has also failed to generate revenue outside of GoPro's hardware. It rested on what made it successful, and the brass wasn't forward-thinking enough to figure out how to monetize its clients after the cameras were sold.
Since GPRO debuted on the Nasdaq in 2014, Money Morning Chief Investment Strategist Keith Fitz-Gerald has warned investors to ignore the hype around the products...
"GoPro makes some really cool products, and they've got a rabid fan base of people who film themselves and others doing some truly outrageous things," Fitz-Gerald said in January. "But that doesn't mean they've got sustained profit potential. The company has engaged in deep, deep discounting this holiday season, and that's going to eat into margins."
GoPro stock may seem like it's trading at a discount now, but this is not a stock you want in your portfolio. The GoPro stock price is now down more than 80% since August 2015.
The Bottom Line: GoPro is going to get more exposure from a deal with Fishing League Worldwide (FLW), which would seem like a major catalyst to help the GoPro stock price climb. But GoPro has lagged in innovation since it first entered the market more than 10 years ago, and the company is throwing money around to try and create short-term solutions. Until GoPro figures out how to make money from more than just hardware, this is going to be a stock you'll want to avoid in 2016...
Jack Delaney is an associate editor for Money Morning. You can follow him on Twitter and follow Money Morning on Facebook. 
 Protect Your Money in This Bear Market: It's true that you would have to be a fortune teller to know exactly when a bear market would start and end. But fortune telling isn't Chief Investment Strategist Keith Fitz-Gerald's profession. His goal is to protect your wealth, maximize gains, and help you focus on what's really going on in the market. In his Money Map Report, this financial guru has used his years of experience as a trader in one of Wall Street's leading firms to help his readers find 86 double- and triple-digit winners. You can learn more about Keith's Money Map Report here...