The Tesla stock price was falling this morning (Tuesday), but this should not be a long-term concern for investors.
Tesla Motors Inc. (Nasdaq: TSLA) stock dipped more than 2% to $240 shortly after Tuesday's open. But within hours, shares had rebounded and were back near Monday's closing price of $246.99.
And we at Money Morning see the Tesla stock price climbing much higher in the long term. But before we get to our long-term outlook for TSLA stock, here's why shares were tumbling this morning...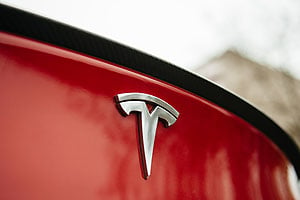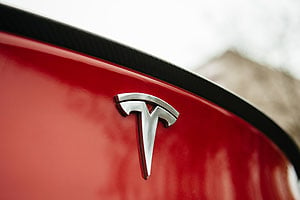 The TSLA stock price came under pressure Tuesday after reporting Q1 2016 deliveries fell short of the company's initial estimates.
Tesla reported late Monday it delivered 14,820 vehicles in this year's first quarter. The company previously said it expected to deliver 16,000 cars. That pace is below what Tesla needs to meet its full-year guidance of between 80,000 and 90,000 vehicles.
Still, Tesla reaffirmed its full-year guidance. And the company blamed the missed delivery total on production issues with the new Tesla Model X SUV.
"The Q1 delivery count was impacted by severe Model X supplier parts shortages in January and February that lasted much longer than initially expected," Tesla said. "Once these issues were resolved, production and delivery rates improved dramatically."
The company said "hubris in adding far too much new technology to the Model X in version 1, insufficient supplier capability validation, and Tesla not having broad enough internal capability to manufacture the parts in-house" caused the miss.
Tesla was quick to mention a similar situation will not occur with the new Model 3 and the nearly 300,000 preordered cars.
Last week, Tesla unveiled its new $35,000 car for the masses. The vehicle's warm reception exceeded all expectations. And the car highlights Tesla's move into an emerging $488 billion market...
Tesla Stock Price Will Benefit from New $488 Billion Industry
In just 72 hours, Tesla amassed 276,000 preorders for the Model 3.
CEO Elon Musk posted the tally Sunday on his Twitter feed. Should the frenzied pace continue, Musk said orders will hit 500,000.
Tesla's new Model 3 carries a sticker price of $35,000. But Musk said he expects customers will add a number of extra features, which will bring the average price tag to $42,000. That would make the initial orders for the Model 3 worth around $11.6 billion.
The Model 3 is a turning point for the company...
Pike Research projects annual worldwide electric vehicle sales will reach 3.8 million by 2020. With only 115,000 electric vehicles sold in 2015, that's a meteoric 3,205% increase over the next four years.
And the potential revenue from the electric vehicle market is staggering...
Analysts project that the electric vehicle industry will bring in revenue of $488 billion by 2030. The $11.6 billion the Model 3 has already created is simply an early look at how powerful the electric vehicle market really is.
"I think Musk is the most innovative CEO on the planet and that he sees value others don't yet recognize," Money Morning Chief Investment Strategist Keith Fitz-Gerald said in 2015. "Cars, batteries, innovative business models - nobody knows where it will go but ultimately if you're along for the ride, I think it'd be very hard to go wrong over time."
The Model 3 is expected to finally turn Tesla into a profitable company and increase its access to cash. That means Musk can create more vehicles and other pioneering products, which will generate even more money for Tesla.
But investors should remember that Tesla shares are volatile. Today's stock action was proof. That's why the stock is not for short-term investors.
For investors with a five- to 10-year time frame, TSLA is solid investment. Over the last five years, TSLA is up a whopping 827%.
On March 21, ahead of the Model 3 launch, Argus Capital upgraded Tesla to "Buy" from "Hold" with a $333 price target. On April 1, the day after the launch, Dougherty & Company raised their TSLA price target to $500 from $355.
Hitting the $500 price target would be a gain of more than 108% for the Tesla stock price from today's open.
Stay informed on what's going on in the markets by following us on Twitter @moneymorning or liking us on Facebook.
The 5 Most Important 2016 IPOs to Watch: There was a shocking absence of IPO activity in 2015. But we'd like to see these five companies go public in 2016. If they do, they'll be the most exciting and promising deals of the year...
Related Articles: