The first quarter of 2016 was one for the books. Since the markets got out of their own way in January and found their footing, we've had nothing but gain after gain.
Now, January really was one of the most brutal starts in nearly 12 years, so those gains aren't quite what they would be otherwise – the Dow is up just shy of 5%, the hard-hit Nasdaq has scraped out 1.16%, and the broad, deep S&P 500 is up around 4.06% – but as traders, we know to take profits when and where they come.
That's the easy part.
Now we're about to run headlong into one of the weakest traditional "seasons" on the markets. According to the "Stock Trader's Almanac," since 1950 the Dow has returned an average of 7.5% from November to April.
But the May to October window sees those gains pared to just 0.3%, on average, hence the old investors' adage: Sell in May… and go away.
But I'm going to show you how you can hang tough in May… and walk away with all the money gun-shy investors are about to leave on the table.
No One Really Knows Why May Is Weak… but It Doesn't Matter
For as much hard science, testing, and empirical research goes into successful trading, investors can be a pretty superstitious bunch. They'll come up with all sorts of folk wisdom to try and explain the patterns that they're experiencing, so you hear things like "sell in May… and go away."
There isn't a definitive cause to this May to October weakness, although we do know that trading volume is lower overall.
Maybe investors who would otherwise be glued to their Bloomberg terminals and mobile phones are off on vacation, or swimming, or barbecuing, or even building birdhouses. There's really no telling.
The action is so slack at this time of year that some brokers (perhaps conscious of their own compensation structure, perhaps not) may caution their clients against going to cash, citing concerns about commissions, fees, and taxes associated with liquidating positions.
But that's beside the point. As traders, we don't have to liquidate anything during these doldrums, and unless we have a long-term or LEAPS options position open, we don't have to sweat that low volume.
You see, some traders may see low trading volume widen the spreads a tad, but if you stick (like I do) to high-volume, liquid options, this really isn't much of a concern.
Another option is to scan for stocks on the Chicago Board Options Exchange/International Securities Exchange's "Penny Pilot" list. These are nearly 370 stocks with really tight options spreads – in many cases, just a penny.
When I find a stock I'd like to make a trade on, I can run it through my toolbox and see things like the historic success rate on trades, the average positive or negative move, and how long it took to make that move. Even during this slow six-month period, there will be really compelling, lucrative trades to put on…
…if you know where to look. Check this out…
Here's What I'm Expecting This May
There's no need to worry about where the market is headed in the warmer months, either. Up or down or both directions, it's easy to trade puts or put credit, "loophole," trades.
However, I think in this case, with one or two exceptions, we can expect the markets to be bearish in May. Have a look at what I'm seeing on each trading day of the Money Calendar next month.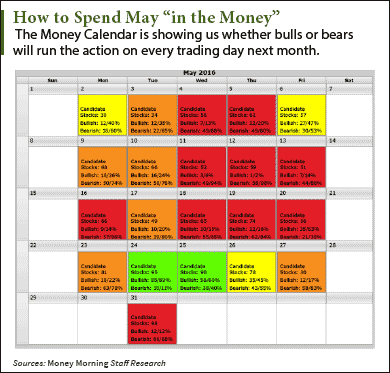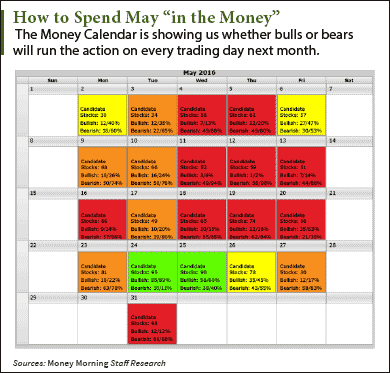 Click to view
This shows the total number of stocks I'm thinking of trading on, and whether the history is bullish or bearish. As you can see, the bears predominate.
Judging by the Money Calendar, "buy and hold" investors may want to, well, sell in May and go away, but for traders, every day holds at least one opportunity to make some money.
If you're trading on your own this summer, don't plan on sticking with these trades for any length of time; stay flexible and nimble. It's critical to know the history of the stock you're thinking of trading, whether its moved up or down in the last 10 Mays, and how long it took to make those moves. And think about trading puts and "loopholes" to make the most of what is almost certain to be a losing month on the markets.
On the other hand, I'll be in touch with my Power Profit Trades readers in the next few weeks about some of the stocks I'm looking at and the patterns I'm seeing, and over at the Money Calendar Alert, we'll be working on specific trading recommendations to make the most of a long, "lazy" summer.
Until then, good trading.
Follow Tom on Facebook and Twitter.
May's bearish opportunities are coming up fast, so click here to get Tom's spring trading recommendations in Power Profit Trades yourself. You'll also get his latest investor briefing on how to make a 100% gain on the world's biggest, most valuable companies in less than 30 days. There's never a charge for Money Morning Members.
Join the conversation. Click here to jump to comments…
About the Author
Tom Gentile, options trading specialist for Money Map Press, is widely known as America's No. 1 Pattern Trader thanks to his nearly 30 years of experience spotting lucrative patterns in options trading. Tom has taught over 300,000 traders his option trading secrets in a variety of settings, including seminars and workshops. He's also a bestselling author of eight books and training courses.