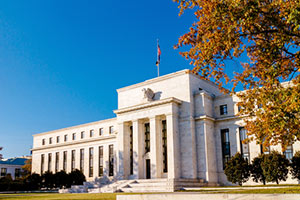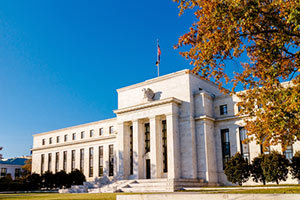 The FOMC meeting today ended without the U.S. Federal Reserve raising interest rates, which had been the consensus prediction among analysts all month.
While no one expected a Federal Reserve interest rate hike, the wording of the Federal Reserve's announcement is always closely watched. With no press conference after today's FOMC meeting, attention was focused on the central bank's policy statement released at 2 p.m.
Here's what we learned from the April FOMC meeting:
Conditions in the labor market continued to improve since the last FOMC meeting, but economic activity growth slowed.
Household spending growth moderated even as households' real income rose at a solid rate.
The housing sector improved further since the start of the year, but business fixed investment and net exports have been soft.
Inflation continues to run below the committee's 2% goal. That partly reflects earlier declines in energy prices and falling prices of non-energy imports. The market-based measures of inflation compensation are still low.
Against this low inflation backdrop, the Fed decided to maintain the target range for the federal funds rate at 0.25% to 0.50%.
All voting members except Esther L. George voted to leave rates unchanged. George preferred to raise the target range for the federal funds rate to a range of 0.50% to 0.75%.
The Fed's monetary policy stance remains accommodative, and the actual path of the federal funds rate will depend (as always) on economic data.
Markets viewed the Fed's action as dovish, or at the very least, passive. Nothing in the Fed's statement suggested the central bank is in a hurry for an interest rate hike.
The central bank emphasized future moves will depend on data. Of course, there's a deluge of data that will pour in before the Fed's meeting in June. That includes two employment reports, two personal income reports, several inflation readings, and more.
Heading into the April FOMC meeting, the odds of a June hike stood at just 19.6%, according to Bloomberg. Chances are only slightly higher for August. It's not until December that markets place a 50% possibility of an interest rate hike.
And because we should see a low rate environment for much of 2016, we looked for the best investment to make following the FOMC meeting.
Money Morning Resource Investing Specialist Peter Krauth, a former portfolio adviser with more than two decades of experience, says this is the one must-have investment to profit from the Fed's actions - and inactions...
The Must-Have Investment Following Today's FOMC Meeting
In this historic low interest rate environment, Krauth says investors should consider tangible assets. These are physical commodities like copper, gold, silver, and oil that help preserve your purchasing power.
The PowerShares DB Commodity Index Tracking Fund ETF (NYSE Arca: DBC) offers those assets, as well as some significant upside potential.
A liquid exchange-traded fund (ETF) with a $2.13 billion market cap, DBC provides a simple and affordable way to invest in futures contracts for these commodities. Simply put, DBC lets investors own these commodities without the burden of physically holding them.
The fund consists of a basket of 14 commodities. These include aluminum, Brent crude, silver, gold, heating oil, and zinc, among eight others.
DBC has sizable positions in oil, gold, and silver. That heavy weighting has boosted DBC as Brent crude, gold, and silver prices are up 11%, 17.5%, and 26.3% this year, respectively.
After peaking at $31.90 in April 2011, DBC shed 60% through February 2015 as easy money measures artificially inflated markets and drained off capital.
DBC is up 14.06% over the last three months. Krauth sees further gains as investors lose faith in paper assets and pour money into futures-invested funds like DBC.
The One Must-Have Investment of the Century: There's no argument, water is the single most important investment of all time. And it's likely to provide huge returns to investors making the right moves, like the ones in this report. Read More...
Follow us on Twitter @moneymorning and like us on Facebook.
Related Articles: