The Square stock price dropped roughly 20% to $10.50 today (Friday). It's been the worst day in the stock's history, and investors everywhere are wondering if Square stock can recover.
But before we get into our outlook for the Square stock price in 2016, here's what investors need to know about today's Square stock price crash...
After Thursday's close, Square Inc. (NYSE: SQ) reported widening Q1 2016 losses on accelerated spending.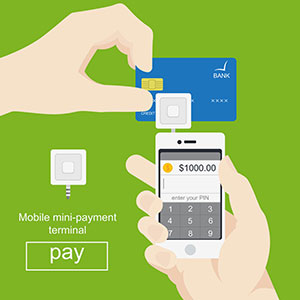 Operating expenses increased nearly 72% year over year (YOY) to $207 million. That caused Square's net loss to hit $96.7 million, nearly double the losses from last year.
Excluding certain items, Square posted an earnings per share (EPS) loss of $0.14. That was much worse than the $0.09 EPS loss Wall Street expected. However, revenue rose 51% to $379.2 million. That was handily better than the $343.6 million forecast.
Results included a one-time charge of roughly $50 million. The steep charge was the result of a lawsuit against Robert E. Morley, Jr., a professor at Washington University in St. Louis, who claimed to be the original creator of Square's credit card reader.
Square said it signed a binding term sheet last quarter to potentially reach a settlement with Morley. Still, the lawsuit contributed to a sizable increase in general and administrative costs, which spiked to $96 million in Q1. That was up from just $28 million the same quarter a year ago.
Despite the down quarter, Square raised its 2016 guidance. Square now expects $8 million to $14 million in adjusted full-year earnings. That's up from previous FY2016 projections of $6 million to $12 million.
Still, the company faces a major hurdle this month.
On May 16, the 180-day lock-up period on Square stock expires. At the end of the March quarter, the company estimated 335 million common shares were outstanding. They also estimate that roughly "64 million stock options and warrants covered by the lock-up will be exercisable at the expiration."
Dorsey said the company isn't worried about a flood of Square stock hitting the market and diluting its share price. He remains confident in Square's investors and the business.
"This is another one-time event that every single company goes through, and what we're focused on is making sure that we continue to focus on what we do, which is build our tools so that people continue to value it and our sell base grows and they grow as well," Dorsey said.
Despite the major obstacle ahead, there are still reasons to be optimistic about the Square stock price in 2016. Here's what investors need to keep an eye on after today's major drop in the SQ stock price...
Square Stock Price Could Climb Because of Unique Business Model
Square is a financial services, merchant services aggregator, and mobile payment company.
Based in San Francisco, Square markets software and payment products that allows individuals and merchants worldwide to accept debit and credit cards on smartphones and other mobile devices.
In addition to selling its payments software and credit card reader, and collecting revenue from credit card payments, Square has added features to its focus. Those include merchant invoicing, payroll, cash advances, appointment scheduling, and marketing features.
In the last quarter, Square received 500,000 orders for its new contactless chip reader that helps merchants update from magnetic strips on payment cards to chips. Square expects those sales to grow as businesses make the transition and the company has better access through partnerships with Amazon.com Inc. (Nasdaq: AMZN), Staples Inc. (Nasdaq: SPLS), and other retailers.
Square's hardware sales were also strong in Q1, more than doubling from the fourth quarter to $16 million. However, the company still sells its device at a loss to gain new payments customers.
A number of analysts commented on the quarter.
Mizuho Securities said Square executed almost flawlessly on the core business, with strength in transaction revenue, solid take rates, and strong hardware sales.
RBC Capital believes the quarter was above expectations on a revenue basis and generally in line for earnings. The results supported their view that Square's integrated solutions position the company to benefit from ongoing card acceptance penetration at smaller merchants and its attractiveness to large businesses.
Square is still a new publicly traded company. Square went public in November at $9 a share. Shares opened at $11.20 on their first day of trading.
This volatility we're seeing is natural for a new stock, but this stock still has plenty of upside. It's currently trading just below $10.50 per share. Analysts at Thomson First Call have an average price target of $13.67 for the Square stock price. That would be a gain of 30% from today's price.
Follow us on Twitter @moneymorning and like us on Facebook.
Related Articles: