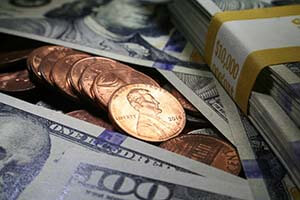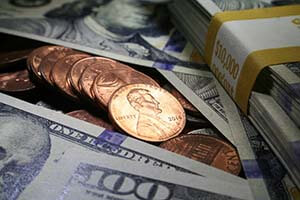 On May 4, there was an important development in one of our companies on the list of the best penny stocks to buy 2016…
The Magee Rehabilitation Hospital demonstrated an innovative product that allows disabled veterans to walk – the Ekso GT™ exoskeleton.
The demonstration focused on a former patient at Magee standing and walking using the exoskeleton. The patient has a spinal cord injury. The exoskeleton, a product of Ekso Bionics Holdings Inc. (OTCMKTS: EKSO), was donated by SoldierStrong, a nonprofit organization dedicated to providing advanced medical technologies to veterans.
The news demonstrates part of what you need to know about penny stocks to buy 2016. Although penny stocks are speculative investments and can be very volatile, they also have the potential to reward investors who have a strong risk tolerance if investors choose penny stocks of companies with innovative products and robust markets, because they are the ones with the most potential to reward investors over the longer term.
Money Morning Chief Investment Strategist Keith Fitz-Gerald believes that Ekso Bionics has those innovative products and an expanding market. He believes the share price could appreciate as much as 2,275% by 2020.
Let's take a closer look at this penny stock…
Characteristics of the Best Penny Stocks to Buy 2016
The exoskeletons that Ekso makes are "wearable robots" that can be worn by people with injuries that affect their limbs, or those who are partially paralyzed. Soldiers have used this technology after an injury or amputation. This "robot" improves mobility.
Although Ekso has been engaged in exoskeleton research and development for some time, the indications for hemiplegia are relatively new. The U.S. Food and Drug Administration (FDA) approved use of one of the GT robotic skeletons for these indications in early March. (Hemiplegia is due to strokes.) The shares gained strongly in the wake of the FDA's announcement.
Fitz-Gerald notes that the announcement underscores how wide the potential market for Ekso's products is. Fitz-Gerald said this was an "enormous breakthrough." Basically it was the first time – not to mention the sole time – an FDA has approved an exoskeleton to treat stroke victims.
Fitz-Gerald said not all stroke victims need an exoskeleton to walk if they have paralysis, but the projected market size is still huge. For treatments related to stroke-related spinal cord situations, it could be $25 billion.
EKSO is also in the midst of developing wearable armor that will provide users with leverage to move heavy loads without straining their back, arms, or other parts of their bodies. Workers who have to move heavy loads, such as construction workers, suffer a high percentage of mobility-related injuries. The wearable armor will relieve stress and strain and is expected to result in a lesser rate of injuries.
Barron's has noted that EKSO has "first mover advantage in the field of exoskeletons."
Unstoppable Trends: The Best Penny Stocks to Buy 2016
It's not just strong markets that the best penny stocks to buy 2016 need. It's also strong macro trends, whether political, social, or economic.
The Human Augmentation sector, one of Fitz-Gerald's six Unstoppable Trends, is projected to increase more than 4,000% by 2020, to hit $1.8 billion. "The fact that almost nobody other than us sees the potential of human augmentation at the moment suggests extraordinary returns ahead."
Two of the other Unstoppable Trends are Medicine and Demographics. Fitz-Gerald reports that many observers think that medical spending will grow from 4% to 6% annually, both in the United States and other countries. Ekso's products, which are designed primarily to help patients and people with disabilities, is positioned to benefit from such spending.
And Demographics? The world will soon be hitting a demographics milestone, according to material from the National Institute of Health & Aging. For the first time ever, people age 65 and over will be more numerous than children younger than 5 years of age by 2020.
That means products aimed at an older population will face a large market and a growth market. Most people who suffer strokes are older.
How to Invest in Penny Stocks
If Ekso Bionics is an example of penny stocks to buy 2016, investors should note that there are certain actions to take if they are interested in penny stocks to buy. The first is research. Investors should be thoroughly familiar with what the company does and what its products are.
Fitz-Gerald recommends examining a company's 10-K, an annual financial report. A 10-K will reveal, for example, if its executives or board are receiving most of the profit in cash. It is also a good idea to look at a company's website, if it has one, or to call or write for information. If the company does not seem to have information to offer you, drop any idea of investing in it.
The second task for people looking for penny stocks to buy 2016 is avoidance of scams. Penny stocks have been subject to scams in the past, such as pump-and-dump schemes and promotion. The scams promise big profits via email, brochures, or phone calls, but actual data on the companies is hard to find. Be wary of such schemes.
Be Prudent: Assess Risk Tolerance and Monitor Portfolio Allocation
As interesting as penny stocks can be, and as handsomely as they can return gains to their investors, they can also go down. Investors need to understand that penny stocks are speculative. Just because many are engaged in innovative products, they are often engaged heavily in research and development. That constitutes the preponderance of their activities in many cases – not sales and profits. They may have zero or negative earnings. In those cases, they sell not on price/earnings ratios, but to the expectations of their products and markets. If these change, the stocks can greatly lose value.
It is wise to assess your own risk tolerance before investing in penny stocks.
Finally, investors interested in penny stocks to buy 2016 need to be prudent in the allocation of their overall portfolios. Fitz-Gerald recommends allocating no more than 2% of an overall portfolio to any one penny stock and having a very small percentage of penny stocks in total.
For news on a penny stock in another sector, check out our free report: This Penny Stock Will Double Your Money — and Save a Dying U.S. Industry.
Follow Money Morning on Facebook and Twitter.