Tech stocks have outperformed the broader market recently, which is why we're bringing you one of our favorite tech stocks to buy today.
You see, the S&P 500 tech sector and tech-centric Nasdaq have gained 6.1% and 6.8%, respectively, in the last three months. Meanwhile, the broader S&P 500 Index has gained only 4.9% over the same period.
That's why Money Morning Director of Tech & Venture Capital Michael A. Robinson just recommended a high-growth tech stock poised for a 24% return.
Before we get into our pick, here's a look at the trillion-dollar market that will drive our stock pick's growth…
How This $1.7 Trillion Market Ties into One of Our Best Tech Stocks to Buy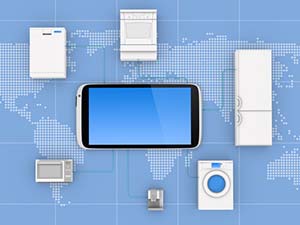 According to Robinson, the Internet of Things (IoT) space is set to become a $1.7 trillion market by 2020. This huge growth potential makes the IoT market an opportunity that can't be overlooked.
The Internet of Things is the concept of embedding everyday objects, from wearable devices to industrial machines, with sensors. These sensors allow the devices to essentially "talk" to each other by gathering data and taking action on that data across a network.
In other words, the Internet of Things is the future of technology because it will make our lives more efficient.
In 2015, more than 15 billion devices were connected to the global IoT network of smart devices. That number could surpass 200 billion devices by 2020.
"This trend will sweep up everything, from cars to televisions to toothbrushes, all connected, all communicating," Robinson said today.
And this explosive growth would not be possible without the help of another $165 billion industry. Robinson says this industry will grow by 57% over the next seven years alongside the IoT market.
More importantly, you can tap this massive growth with one of the best tech stocks to buy…
One of the Best Stocks to Buy to Play This $165 Billion Tech Trend
The industry we're talking about is called embedded computing (EC).
An embedded computer is a single chip containing all of the essential elements of a computer. Another term often used for an embedded computer is a "microcontroller." That's because the main purpose of an embedded computer is to control something.
ECs are found in most devices used to connect to the Internet of Things. These include smartphones, TVs, cameras, washing machines, microwave ovens, dishwashers, and cars.
"Virtually anything that has an electronic brain will be a part of this sector," Robinson explained. "You can see why analysts currently studying this sector are pretty excited."
Yet Robinson believes this market will be much bigger than anyone expects. And the best way to play the massive growth is with 87-year-old tech stalwart Texas Instruments Inc. (Nasdaq: TXN).
Texas Instruments – best known as TI – is the third-largest semiconductor manufacturer in the world. The company mainly sells semiconductors to electronics designers and manufacturers. It operates through two segments: analog and embedded processing.
TI is the world's leading manufacturer of analog and embedded chips. Revenue from those two product streams accounted for more than 85% of the company's 2015 revenue of $13 billion.
"With embedded computing heating up so much, some analysts are already calling for this stock to rise 24% by the end of the year," Robinson said. "But again, I think this is really just the beginning."
The embedded computing revolution is transforming Texas Instruments. The company's EC segment grew nearly 20% year over year and is becoming a larger part of TI's operating profits. In Q1 2016, EC represented almost 19% of the company's profits. That's up 13% from the first quarter of 2015.
The Texas Instruments dividend yield is another attractive quality. According to the Q4 earnings report, the company returned roughly $4 billion to shareholders through both dividend payments and stock buybacks. As of today (Tuesday, May 24), TXN stock offers a yield of 2.6% and quarterly dividend of $0.38 per share.
At $59.84 a share today, TXN stock is up 9.14% so far this year. That's handily better than the S&P 500's 1.5% gain and the tech-centric Nasdaq 100's 3.5% gain in the same time.
If our TXN stock price prediction comes true by the end of 2016, it will gain 24% to $72.83 – a level not seen since the early 2000s.
Keep up with our coverage of Texas Instruments and the best tech stocks to buy. Follow us on Twitter @moneymorning and like us on Facebook.
Seven More of the Best Stocks to Buy… With market swings thanks to the Fed and other factors, it's hard to determine if we're heading into a real bull market or just a short-term rally. That's why our Money Morning gurus have compiled the best stocks to buy that focus on long-term gains. Here are the companies that will offer returns – no matter what the market does…