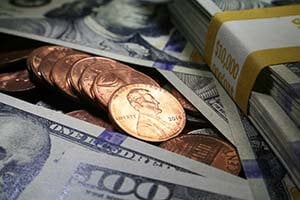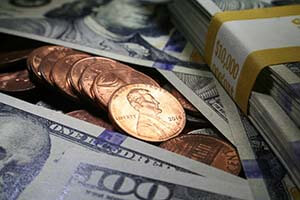 Finding the best penny stocks to buy means possibly investing in the next triple-your-money company.
Shares of Vericel Corp. (Nasdaq: VCEL), for example, jumped from $3.92 to $5.18 – about 32% – in a single trading day after a March announcement concerning clinical trials for a cell therapy treatment it is developing. The treatment, for patients with heart failure stemming from ischemic dilated cardiomyopathy, was a success.
The spike put it on Money Morning's "Penny Stocks List of Top Winners in 2016." (This list, issued periodically, is not a list of recommendations but simply a report on which penny stocks have done well.)
So penny stocks can be very attractive because their prices can soar in triple digits in a very short period of time. However, the shares of penny stocks are also speculative and can be very volatile. VCEL, for example, was trading back at $2.82 on May 4, a drop of more than 3% on the day, and nearly 45% from the March high.
Why? The fine print of the clinical trial showed that, while the cell therapy was highly successful in reducing hospitalizations, emergency room visits, and death, it was not nearly as successful in several secondary measures of heart failure, such as how far patients could walk in six minutes. In those secondary measures, VCEL's therapy had no discernable effect above placebo.
VCEL's trajectory since March illustrates a fundamental truth of investing in penny stocks, and for that matter, all stocks: What goes up can just as easily come down. A run-up is not eternal and shouldn't be used as a forecast for future investing.
Here's why, and what to do about it.
Perform Research and Risk Assessment When Looking for the Best Penny Stocks to Buy
First, penny stocks are very micro cap (the usual definition of a penny stock is one that trades at less than $5.00 per share). Therefore, any swings can affect a large percentage of the stock price, as the example of VCEL shows.
Second, many penny stocks are engaged in research and development and have yet to fully bring a product to market. Because of this, they may not show revenue and earnings. The share price may trade on the promise of an innovative product or one that serves an underserved or unserved market rather than strength in sales or revenue. For these types of penny stocks, news about their innovative products can move the stock sharply up or down.
Given this, what are the best penny stocks to buy?
Think of it like this. Because of the risks involved with penny stocks, investors need to know their own risk tolerance. It's useful to think of scenarios like that of VCEL as proxies for penny stock investing. Think about its effect on you.
As Money Morning Chief Investment Strategist Keith Fitz-Gerald observes, the best penny stocks to buy are determined by the same methods as any other stocks. Ultimately, the key is to do research and know what you are buying.
Fitz-Gerald said these small companies can be "fabulously profitable" when done right. Investors should keep risks in perspective and stay disciplined for the biggest penny stock investing success.
When Looking for the Best Penny Stocks to Buy, Spot Strong Markets and Innovative Products
Another stock that has had a strong run-up recently is TetraLogic Pharmaceuticals Corp. (Nasdaq: TLOG). In a 15-day period between mid-April and the end of the month, the stock price rose roughly 184%.
In late March, Money Morning noted that TLOG is a biopharmaceutical company engaged in research and development of small molecule therapeutics for infectious diseases and cancer.
TLOG is currently in phase 2 clinical trials for its product Birinapant. Birinapant is intended for the treatment of patients with myelodysplastic syndrome (MDS). Its other lead product is SHAPE, intended for treatment of patients with the Hodgkin's class of cancer.
TLOG's pipeline is robust. In November 2015, it began a U.S. Investigational New Drug application (NDA) for a phase 2 clinical trial of suberohydroxamic acid to treat patients with alopecia areata, an autoimmune disease that causes baldness.
Another biotechnology company, Novavax Inc. (Nasdaq: NVAX), climbed 18% in March, although it trended lower in April.
NVAX develops vaccines for illnesses like pandemic flu viruses and rabies; its upward move in March was partly on news that it will be exploring treatments for the Zika virus. It is also exploring treatments for Ebola.
Money Morning Small-Cap Investing Specialist Sid Rigg notes that the company's Recombinant Nanoparticle Technology is a potential future spark to the stock just as much as its vaccines. The technology produces vaccines over a significantly shorter time span than other available technologies.
In researching the best penny stocks to buy, investors should focus on those, like TLOG and NVAX, that trade on the major exchanges, such as the New York Stock Exchange and Nasdaq, rather than the Pink Sheets or the Over-the-Counter Bulletin Board (OTCBB). The major exchanges have stringent reporting requirements that allow investors to do diligent research and to pinpoint signs of danger, such as a CEO receiving most of the profits. Penny stocks have been subject to scams in the past, and sticking to the large boards helps investors avoid those.
Look for Beneficiaries of Major Trends When Finding the Best Penny Stocks to Buy
Investors searching for the best penny stocks to buy should also pay attention to the larger picture in addition to one company's specific markets and products. Fitz-Gerald, for example, has issued a group of "Unstoppable Trends" powered by demographics and social and political factors.
Among his unstoppable trends is medicine, driven by the rise in medical spending not only in the United States, but around the world. Healthcare spending is projected to rise from 4% to 6% globally per year going forward.
Biotechnology companies who successfully develop and bring products to market are poised to benefit from this rise in spending.
Remember, Use a Cautious Allocation
Finally, investors looking for the best penny stocks to buy should be cautious when dividing up their capital by classes of investment. Penny stocks should never be a large percentage of one's total investments due to their speculative nature and risk volatility. No one stock should ever comprise more than 2% of an investor's portfolio.
Want more information about the best penny stocks to buy? Get our free report: This Penny Stock Will Double Your Money — and Save a Dying U.S. Industry.
Follow Money Morning on Facebook and Twitter.