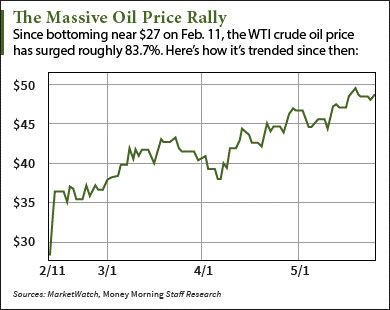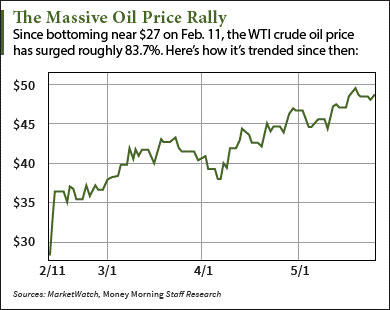 The WTI crude oil price today (Wednesday, May 25) just touched its highest level in seven months. With today's gains, crude oil prices have now risen a whopping 84% since their lows in February.
And according to Money Morning Global Energy Strategist Dr. Kent Moors, we've just established a stable price floor that will open up profit opportunities in the oil sector.
In fact, Moors – an oil industry veteran who's been in the market for four decades – just found this week what the specific price floor is.
Before we reveal what that price is, here's a breakdown of the recent oil price rally…
Why the WTI Crude Oil Price Reached a Seven-Month High
At 9:50 a.m., WTI crude oil prices gained 1.6% to trade at $49.40 a barrel. The U.S. benchmark currently trades at its highest level since mid-October. Futures for July delivery are now up 5.8% so far this month.
The Brent crude oil price also posted gains this morning. The global benchmark was up 1.8% to $50.05 a barrel. Futures for August delivery have added 4.8% in May.
The surge in crude oil prices came on the heels of two reports estimating huge declines in oil supply…
Yesterday, the American Petroleum Institute (API) reported U.S. oil inventories fell by 5.1 million barrels last week. And this morning, the U.S. Energy Information Administration (EIA) said domestic supply declined by 4.2 million barrels to a total of 537.1 million.
Since the API supply surveys are voluntary and the EIA surveys are required by the government, the two often give different estimates. Despite the varying numbers, the fact that both reported a decline in oil supply is a very bullish indicator for oil prices.
While the WTI crude oil price rally is certainly worth celebrating, it isn't the key to profits right now. According to Moors, the best returns for investors come when an oil price floor forms and dictates how oil futures trade.
"Let me restate the most important point," Moors said earlier this week. "Establishing a floor in oil pricing is what generates the ability to make money – for oil companies and for you as an investor."
And we identified that crucial price floor just a couple days ago…
This WTI Crude Oil Price Is the Key to Making Money in the Sector
On Monday, May 23, Moors identified the oil price floor as $42 a barrel. This floor signals the formation of a stable pricing range, which will provide more profit opportunities than oil's current rise to a ceiling.
"Oil is now unlikely to dip below $42," Moors said. "The importance of this stable pricing floor stems from what it means to traders, including how they set their futures contract prices."
You see, when oil prices were rising to $110 before the mid-2014 collapse, traders would set prices to the most expensive next available barrel of oil. That strategy in the triple-digit price climate allowed them to make money from higher arbitrage – the simultaneous buying and selling of futures to profit from the price difference.
In other words, arbitrage allowed traders to buy oil futures for $90 in one market and instantly sell them back for $100 in another market. It was a profitable way to play the market back in the high-demand, low-supply oil environment.
With today's low price environment, traders have changed their approach. They currently have to hedge the risks of their futures contracts by assigning prices to the least expensive next barrel of oil. By doing this, they avoid losing money to crude oil price volatility.
Now that we've identified the crude oil price floor, traders can set the price of the next available barrel at a minimum of $42. The narrow range between the $42 floor and today's current prices will allow both oil companies and traders to become confident in the price stability and start turning profits.
"This floor is enough to open up the market for oil companies that can get a reasonable price for their product and investors who can profit from the rising fortunes of those companies," Moors said.
The Bottom Line: The WTI crude oil price's rally over the last three months has finally brought it to a seven-month high today. But the continued rally is of little importance to investors looking to profit from the oil sector. The price floor of $42 will be the focal point of oil profits as traders cut back on their hedging and bet on the stability of oil prices in 2016.
Follow us on Twitter for more WTI crude oil price analysis: @moneymorning and @AlexMcGuire92.
Don't Trust This Wall Street Titan's Oil Prediction: Last week, Goldman Sachs changed up its bearish stance on crude oil prices. Its new report forecasting $50 oil prices may sound like good news, but we found two reasons why you shouldn't believe in Goldman Sachs' unexpected turnaround…