Silver prices today (Wednesday, June 22) were up a modest 0.1% and trading at $17.38 an ounce as investors remain cautious ahead of the Brexit vote.
But our Money Morning experts have found four long-term factors that will boost silver prices in 2016 – Brexit or no Brexit.
Before we get into these bullish trends, here's everything you need to know about the vote's effect on the silver price recently…
Here's How Silver Prices Are Performing This Week
The price of silver has declined 0.7% since Monday as the world eagerly anticipates the outcome of tomorrow's UK referendum.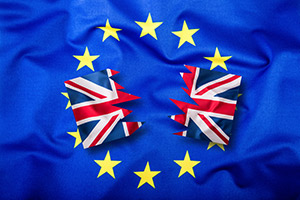 From 7 a.m. to 10 p.m. local time (2 a.m. to 5 p.m. EDT), British citizens will vote to decide whether or not they want their country to leave the European Union. New poll results show the outcome is still too close to call. Research from The Telegraph and "What UK Thinks" shows 51% of British citizens are in favor of staying in the EU while 49% favor leaving.
Silver prices gained nearly 10% during the first two weeks of the month as investors used the metal to hedge against Brexit risk. But its safe-haven appeal is fading now that global stocks have gained 0.8% this week on hopes the "remain" camp will prevail.
There's still a chance Britain will leave the EU, which poses several political and economic risks…
First, a Brexit would leave a giant question mark about the future of the UK's $2.9 trillion economy. It would also split the majority Tory party – which is the British equivalent of the conservative party – and likely require the resignation of Prime Minister David Cameron.
A Brexit would also be a blow to the confidence and unity of Europe. The biggest concern is a possible snowball effect, which means other countries may follow the UK's lead if it leaves the EU.
With all of this Brexit vote uncertainty, investors want to know how silver prices will perform in the wake of the referendum.
Regardless of whether Britain leaves the EU, there are four long-term trends that will move silver prices higher this year…
Four Factors That Will Rally Silver Prices in 2016
The first factor that will keep the price of silver aloft is the U.S. Federal Reserve's interest rate policy.
After last week's decision to keep interest rates unchanged, the Fed said it now projects only one rate hike in 2016. Lower interest rates are a boon for silver prices because they depress the value of the U.S. dollar, which makes silver more affordable to users of foreign currencies.
The second bullish silver price factor is dwindling supply.
Output from silver mines will fall in 2016 for the first time since 2011. According to CPM Group, annual silver production around the world will fall 2.4% to just under 785 million ounces this year.
The third trend is silver's growing range of industrial applications.
Silver plays a key role in the production of photovoltaic (PV) cell solar panels. Each one requires at least 20 grams of silver. Silver's use in everything from solar panels to batteries will boost demand by roughly 70 million ounces in 2016. That makes this year the fourth straight annual rise in industrial silver demand.
The fourth factor that will send the silver price on a rally is skyrocketing coin sales.
Sales of the U.S. Mint's signature Silver Eagle coins have soared in recent months. Roughly 4.5 million coins were sold in May, making it the best month of May in 30 years. During the first five months of the year, sales hit 23.4 million. That's a 38% increase over the same period in 2015.
According to Krauth, silver prices will cross the $20 mark by the end of 2016. That represents a 15.1% gain from this morning's price.
If you're looking to play this silver price rally without the burden of owning physical silver, Krauth recommends the Sprott Physical Silver Trust (NYSE Arca: PSLV).
This Canada-based fund stores physical silver at a third-party location that's regularly audited and inspected. That allows investors to own silver without actually owning silver and dealing with the storage costs. U.S. investors also benefit from a 15% capital gains tax after holding a position in the trust for at least one year.
As of June 22, PSLV has an $887 million market capitalization. Shares of the trust have gained a whopping 25% so far in 2016.
Follow us on Twitter @moneymorning and like us on Facebook.
Readers – don't miss details on this bonus stock pick… the best "retirement stock" of 2016…
Related Articles: