Carl Icahn, Donald Trump's biggest activist investor fan, praised the Republican nominee's economic speech on Tuesday:

Most notably, Icahn suggested that Trump would help end the government's war on business, according to his website. Currently, the legendary investor said that most CEOs are afraid to invest in manufacturing or new equipment because of strict government regulation.
To back up his point, Icahn cited the fact that U.S. productivity was down for the third straight quarter - the worst it's been since 1979, according to The Wall Street Journal.
Low productivity could easily force the Federal Reserve to keep interest rates low for years to come, the WSJ reports. And rather than companies taking advantage of that to invest, Icahn says they'll use it to buy back stock.
Stock buybacks, which companies use to inflate the value of their stocks, are already up 15.1% in 2016 compared to the same point last year, according to FactSet.
And even before this year, stock buybacks were already happening at a record clip.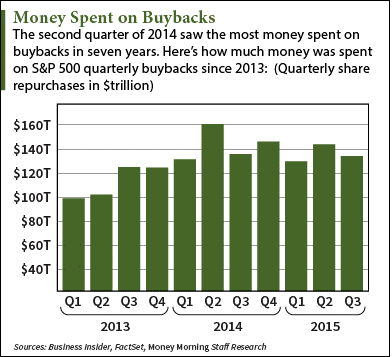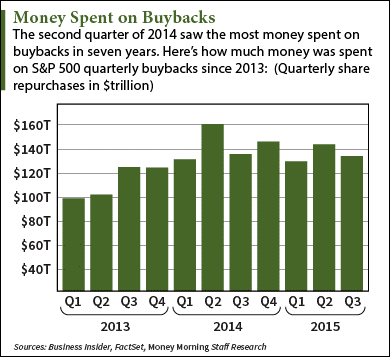 Ichan echoed Trump's call for a rebirth in American manufacturing. The Republican nominee has given numerous speeches about a slowdown in U.S. manufacturing while on the campaign trail. His latest was back on June 28, at an aluminum and steel recycling plant in Monessen, Pennsylvania. In the speech, Trump lamented the hardships faced by working-class Americans as manufacturing plants across the country shut down.
Icahn also lambasted Democratic pundits for saying that the United States is a "service economy"...
If that's true, Icahn said all we'll produce in the future is more "text messages" and "tweets" to send to each other.
"But no problem that all the decent-paying manufacturing jobs will disappear," Icahn concluded. "The Fed will just keep lending money at zero interest rates until the bubble bursts and we go over the proverbial cliff."
Below is a clip of Icahn discussing Trump's economic speech on CNBC.
Up Next
While the U.S. manufacturing sector is getting hit hard, another major U.S. sector is thriving...
In fact, this sector continues to see record growth. And it's an incredibly ripe place for investors to grow their money, too.
Check out what our Chief Investment Strategist Keith Fitz-Gerald has to say about this unstoppable sector right here...
Like us on Facebook or follow us on Twitter.