As a novice trader back in the late '80s, I used to sit with my Compaq computer in the loft of my small house in New Jersey when I first discovered charting patterns and indicators.
I also spent quite a bit of time in front of the TV watching then-called FNN (now CNBC). And the most popular trading "mantra" then was: buy low and sell high.
You may have heard this…
But I learned quickly that this doesn't always hold true.
Actually, quite the opposite.
Here's why…
Stocks at (or Near) Their 52-Week Highs Are Actually Worthy Buys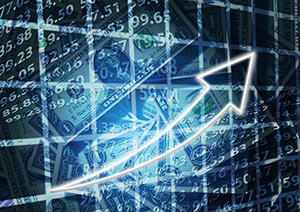 William O'Neil, editor of Investor's Business Daily, is known to be a bit of a "maverick" in the markets for what some consider to be his unconventional trading methodologies. And one of his philosophies in particular makes much more sense than you may think…
"Buy high and sell higher."
In the financial markets, it's true that stocks moving higher in price may come down – but they don't necessarily come ALL the way back down. Although they may retrace a bit, there are some sound growth stocks out there. These stocks have made investors so much money that they're considered to be "the darlings" of the markets.
We'll take a look at those in a little bit. First, let's see where O'Neil's way of thinking comes into play…
Stocks that reach new 52-week (or all-time) highs can be scary for some investors because they think the only direction to move from there is lower. They think that they need to sell their positions to lock in the incredible profits they've made before the stock starts falling.
Trending: How Small Investors Can Take on Wall Street… and Win
But investors' faith in the viability of a company continues to grow right along with that company's profits – especially if it pays dividends. And as investors keep accumulating that company's stock to capture those profits, the stock price gets pushed higher and higher (even after a pullback).
Now I've got my own proprietary analysis software that's an incredible workhorse for finding and analyzing stocks and exchange-traded funds (ETFs) that offer the best options trading opportunities. My tools also find those stocks at or near their 52-week highs.
In fact, my Money Calendar Alert members recently had the opportunity to capture over 176% gains – all on another stock ticking toward its 52-week high, SPDR Dow Jones Industrial Average ETF (NYSE Arca: DIA).
And these are the 24 stocks I see that are at or over 70% of their 52-week highs…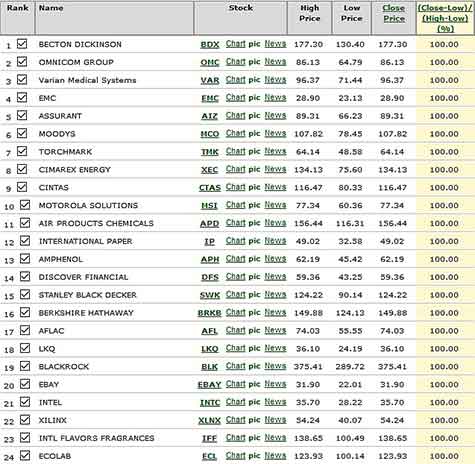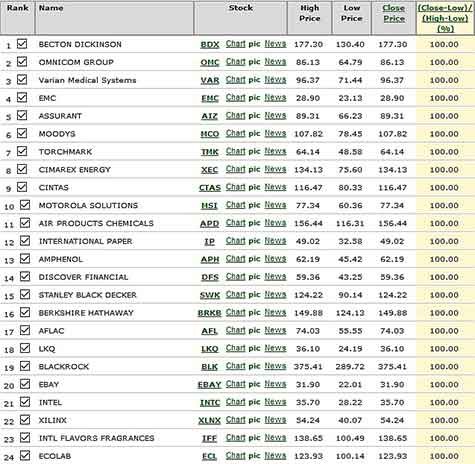 When looking at the top five under the "High Price" and "Low Price" columns, you can see the same two stocks within the same healthcare sector: Becton, Dickinson & Co. (NYSE: BDX) and Varian Medical Systems Inc. (NYSE: VAR).
The other three stocks that made the top five fall within the advertising services, technology, and financial sectors: Omnicom Group Inc. (NYSE: OMC), EMC Corp. (NYSE: EMC) and Assurant Inc. (NYSE: AIZ). Now, all of these stocks (with the exception of EMC) are not only trading at 52-week highs, but are also at or near their all-time highs.
Keep in mind that you don't want to own too many stocks within the same sector. If that sector (say housing) hits a bad spell – and all you've got are stocks within that sector – you've put your entire account at risk. Something you can do to prevent that from happening is diversifying your portfolio by industry.
And remember, the markets are everything that you don't expect, and then some…
Buying high may not sound like a safe strategy, but when you look at the stocks that are approaching their yearly highs, one thing is evident… they didn't get there because of good looks. They got there because, whether fundamentally, technically, or seasonally, they deserved higher stock prices.
And if the trend is your friend (which is upward right now), chances are those high flyers will deliver more returns than some low-priced, down-trending stock.
This Is the Best "Retirement Stock" of 2016… And the good news is, it's trading for "pennies." But it won't be for long… its revenue is set to surge 4,709%. Learn the details of this $5 stock today while it's still "on sale." Read more…
Follow Money Morning on Facebook and Twitter.
Join the conversation. Click here to jump to comments…
About the Author
Tom Gentile, options trading specialist for Money Map Press, is widely known as America's No. 1 Pattern Trader thanks to his nearly 30 years of experience spotting lucrative patterns in options trading. Tom has taught over 300,000 traders his option trading secrets in a variety of settings, including seminars and workshops. He's also a bestselling author of eight books and training courses.