A rogue nation and its cartoonish, unpredictable leader fire two ballistic missiles towards its rival neighbor, a vital American ally. Then the nation claims to have detonated its most powerful atomic bomb ever, which it says will fit nicely on a warhead fitted to those ballistic missiles.
A strongman in charge of a world power decides to invade a sovereign country to "reunite" half its territory with the mother country - twice, and both times during the Olympic Games.
Unfortunately, as we all know, these events weren't lifted from the plot of a spy novel.
They're actually happening in the world today. Border wars, frozen conflicts, and saber rattling in the South China Sea, Ukraine, the Russian Caucasus, the Korean peninsula, Syria, Iraq, Yemen, and Saudi Arabia don't show any signs of letting up.
A global economy lurching toward recession, bad planning, and poor leadership across the globe don't help international tensions, either.
But this is precisely the kind of environment lucrative defense stocks thrive in.
In fact, nervous nations with deep pockets are propelling the entire defense sector into a "supercycle" that could be good for steady gains for the next 20 years.
And it doesn't matter who wins in November, either.
Why Everyone's Got to Have Missiles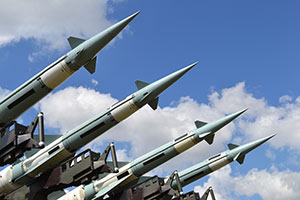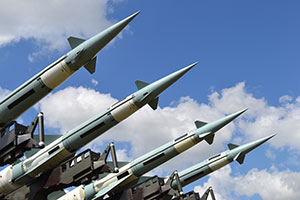 Like I said, worldwide defense spending is on the rise, but here in the United States, there's a uniquely rich opportunity.
After years of "sequestration" and penny-pinching, the U.S. Department of Defense is embarking on a huge rebuilding cycle. Both presidential candidates are relatively hawkish, and they'll need well-equipped armed forces to back up any campaign season positioning.
That means significant defense spending increases for many years to come. That's a huge opportunity, especially for folks who grab shares of the company I'm about to show you. It's sitting right on top of the hottest segments among global defense priorities.
It's the one weapons system that everyone needs, and it's not any new-school "virtual" or information weapon.
Missile systems.
They're practical and affordable, no matter the budget, they can be offensive or defensive nowadays, and the ability to build and maintain them at readiness is the backbone of a credible military presence.
And importantly for investors, they're a "turnkey" moneymaker for defense firms, who get to sell not just missiles, but entire missile systems and training programs.
Aerospace forecaster AeroWeb says that in 2015, missiles were an $11 billion business in the United States alone; that's not including the dozens of other countries that are actively looking to enhance their offensive and defensive missile capabilities.
But currently missile defense is enjoying the biggest growth in an already high-growth segment.
We've come a long way since the 1980s, when President Ronald Reagan funded the "Star Wars" missile defense program that turned out to be an impractical hope - the processing power of computers at the time just wasn't advanced enough to be able to knock out supersonic intercontinental ballistic missiles (ICBMs) consistently.
But that expensive failure held some really valuable lessons in missile defense that have in turn led to some very real breakthroughs.
Join the conversation. Click here to jump to comments…
About the Author
Michael A. Robinson is a 36-year Silicon Valley veteran and one of the top tech and biotech financial analysts working today. That's because, as a consultant, senior adviser, and board member for Silicon Valley venture capital firms, Michael enjoys privileged access to pioneering CEOs, scientists, and high-profile players. And he brings this entire world of Silicon Valley "insiders" right to you...
He was one of five people involved in early meetings for the $160 billion "cloud" computing phenomenon.
He was there as Lee Iacocca and Roger Smith, the CEOs of Chrysler and GM, led the robotics revolution that saved the U.S. automotive industry.
As cyber-security was becoming a focus of national security, Michael was with Dave DeWalt, the CEO of McAfee, right before Intel acquired his company for $7.8 billion.
This all means the entire world is constantly seeking Michael's insight.
In addition to being a regular guest and panelist on CNBC and Fox Business, he is also a Pulitzer Prize-nominated writer and reporter. His first book Overdrawn: The Bailout of American Savings warned people about the coming financial collapse - years before the word "bailout" became a household word.
Silicon Valley defense publications vie for his analysis. He's worked for Defense Media Network and Signal Magazine, as well as The New York Times, American Enterprise, and The Wall Street Journal.
And even with decades of experience, Michael believes there has never been a moment in time quite like this.
Right now, medical breakthroughs that once took years to develop are moving at a record speed. And that means we are going to see highly lucrative biotech investment opportunities come in fast and furious.
To help you navigate the historic opportunity in biotech, Michael launched the Bio-Tech Profit Alliance.
His other publications include: Strategic Tech Investor, The Nova-X Report, Bio-Technology Profit Alliance and Nexus-9 Network.