After falling to a record low last week, the Deutsche Bank stock price is down another 3.71% to $12.60 today (Monday) following a failed bailout attempt for the struggling bank.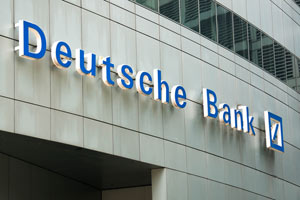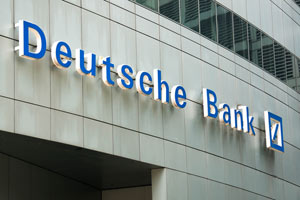 Reports this weekend said German Chancellor Angela Merkel cannot afford to bail out Deutsche Bank AG (NYSE: DB). The hardline stance Berlin has taken against state aid in other European nations and the risk of sharp political criticism make a Deutsche Bank bailout improbable.
You see, Germany has insisted that Italy and others in the Eurozone accept strict conditions in dealing with problem lenders. So Germany can't go easy on its flagship bank. In fact, the German government has denied reports it is working on a rescue plan for Deutsche Bank.
And here's what that means for the Deutsche Bank stock price...
Deutsche Bank Stock Price Outlook Remains Bleak
The DB stock price tanked last week on news U.S. authorities are seeking $14 billion in fines for selling risky mortgage-backed securities before the 2008 financial crisis. A fine that size could cripple the bank.
Up Next: Get the Best Investing Research Today to Grow Your Money
Selling in Deutsche Bank stock picked up steam early Friday on rumors that hedge funds were pulling money out of the bank. Fears have escalated that Deutsche Bank, a key pillar in the European banking system, is the next Lehman Brothers.
Deutsche Bank shares bounced off record lows Friday following reports that it was nearing a price settlement of $5.4 billion instead of $14 billion. The bank, the U.S. Department of Justice, and the German finance ministry all declined to confirm or deny the report.
But Deutsche Bank continues to try to suppress fears about its health. The German lender said its financial position is "stable," noting it has more than 20 million clients.
But there are reasons to be very concerned...
You see, Deutsche Bank has more than $42 trillion in derivatives on its books. That's nearly 14 times the size of Germany's $3.3 trillion economy. It is also more than twice the size of the European Union's $16.3 trillion GDP.
"To put this in perspective, that's roughly 20 times the derivatives exposure that Lehman Brothers had... and we all know how that ended," Money Morning Chief Investment Strategist Keith Fitz-Gerald explains.
"Deutsche Bank doesn't have the cash to settle its own legal troubles, let alone any 'surprises' that might come its way," Fitz-Gerald continued.
At $12.60, the Deutsche Bank stock price is now down 47.08% year to date. And the sell-off is not yet over. But selling short might not be the best move right now, either.
"A lot of late shorts could get burned if Merkel and her cronies change course to 'work something out,'" Fitz-Gerald said. "Even [Fed Chair Janet] Yellen could step in and say she'll back everyone 'just in case,' which would cause banking stocks to take off like a rocket, causing a short burn... and a good deal of financial pain for folks with short positions who haven't properly prepared."
But there is a way to protect yourself from the fragile global banking sector, and Fitz-Gerald has it for readers right here...
Follow us on Twitter @moneymorning and like us on Facebook.
Related Articles: