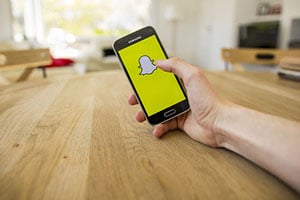 We've gotten major new details about the Snapchat IPO date today, as Snap Inc. has announced it's working on an initial public offering that could value the company at $25 billion or more.
Here's what we know now so far about the Snapchat IPO date...
According to The Wall Street Journal, Snap Inc. is aiming to sell shares as early as late March. Snap operates the increasingly popular app that allows users to send videos and messages over mobile devices that disappear in seconds.
An IPO valued at $25 billion would be sharply higher than Snapchat's most recent valuation of $17.81 billion. That $17.81 billion figure was pegged a few months ago following a $1.81 billion financing round in May.
An IPO of that size would also mark the largest IPO since Chinese e-commerce goliath Alibaba Group Holding Inc. (NYSE: BABA) debuted on Sept. 19, 2014. The Alibaba IPO raised $21.8 billion.
Here's everything else investors need to know now as the Snapchat IPO date approaches...
Snapchat IPO Date Marked for Q1 2017: Here's What We Know
Snapchat stock will unquestionably be in high demand on the Snapchat IPO date.
That's because several of the world's largest private companies, like Uber, have repeatedly said they plan to remain private as long as possible. But Snap CEO Evan Spiegel said at a 2015 conference that the company was not interested in selling to interested parties and has plans for an IPO.
Don't Miss: This is your ticket to bigger and better returns... and it won't cost you a penny. What are you waiting for? Read more... 
Yet waiting has its benefits, including a better Snapchat IPO price.
Snapchat's valuation has surged over the last several years as the company added advertising and included sponsored content. The company said it expects $1 billion in advertising revenue in 2017. According to financials leaked in 2015, Snap earned $3.1 million in advertising revenue over the first 11 months of 2014.
By the end of 2016, Snapchat's user count in the United States is projected to have risen to 58.6 million. That number is forecast to jump 13.6% to 66.6 million in 2017, according to research firm e-marketer.
Talks of a Snapchat IPO come at a time when shares of technology IPOs are enjoying a resurgence. The number of tech companies going public in September climbed to levels last seen during the dot-com boom.
There were 32 tech IPOs globally last month that raised a combined $4.3 billion, according to Dealogic. That made it the second best September for IPOs on record. Yet slowing global growth continues to be challenging and is tempering new listings.
And those challenges can be seen closer to home...
Just 19 tech companies have launched on U.S. exchanges this year, raising roughly $3.3 billion. That was a 35% drop from last year, according to Dealogic. But shares on average have gained a whopping 75% during their debut.
While the Snapchat IPO date is now marked on our calendars, most investors still don't know how Snapchat makes money. You can find the full answer, right here...
Follow us on Twitter @moneymorning and like us on Facebook.
Related Articles: