Earlier this week, we saw the markets in a compression pattern, a triangle. That's when I made this prediction:
"A break and close below the 2,140 zone will bring our 'Line in the Sand' back into play."
My prediction came true – that's exactly what happened.
That's what makes technical analysis of charts like this so powerful…
We're Out of the Triangle, Back on the "Line"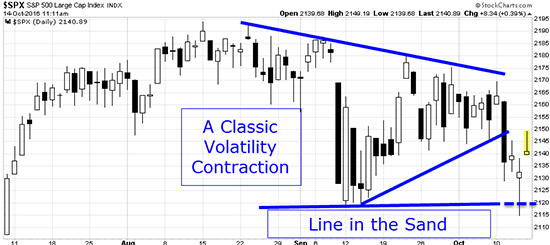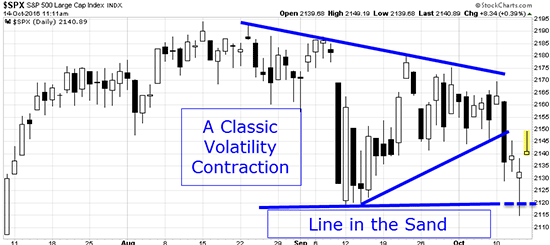 This most recent market activity breaks us out of a short-term triangle pattern and transitions us into a slightly longer-term pattern that features our "Line in the Sand" more prominently.
On this chart below, our "Line in the Sand" is a price zone that was a resistance level – a "ceiling" for stocks – from November 2015 through July 2016. Price then broke through decisively in July and since then, this same price zone has proved to be a key support level – a "floor" for stock prices.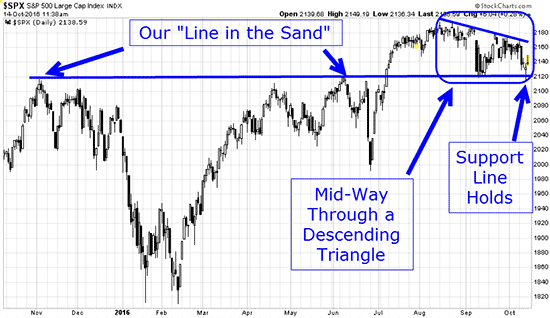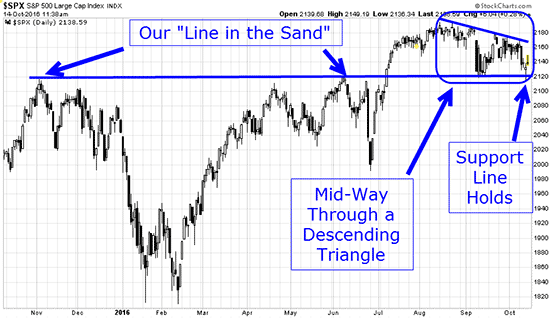 Late last week, on Oct. 13, we were socked with very disappointing monthly export data out of China. Rather than going up – a symptom of the "bad news is good news" syndrome gripping the markets – traders in fact reacted negatively to this report because it is an indication of declining global economic health.
That drove prices down in trading, but by the end of the day Thursday, our "Line in the Sand" had held and price was rebounding.
Incidentally, this "Line in the Sand" put our Stealth Profits Trader Micron Tech options play within inches of its first profit target. It really is that powerful.
This Line Is Going to Be Even More Important Going Forward
Join the conversation. Click here to jump to comments…
About the Author
Nationally recognized technical trader. Background in  engineering, system designs, and risk reduction. 26 years in the markets.