We've been talking about the defense "supercycle" of spending - set to last for at least a decade - that's only just beginning to ramp up. But there's one segment in this broad category that's already seeing huge amounts of increased spending.
Now, time was, this sector was more science fiction than actual, deployable technology. But an increase in computing speeds and a renewed focus on deploying "smart" technology means that this industry is actually in a supercycle inside a supercycle.
In fact, online research firm MarketsandMarkets projects that the $420 million market in 2014 will explode in the next five years to $5 billion - that's a CAGR of nearly 54% for the next five years.
Another study by techemergence.com anticipates an $8.3 trillion market by 2035 in the U.S. alone.
From $420 million to $8.3 trillion in just 20 years... Much of that windfall will come from one whale of a customer: the United States government.
I'm going to show you how to tap this growth dynamo quickly and easily, so you can get positioned for maximum upside as this trend takes off.
The Military Is Getting Smart About Artificial Intelligence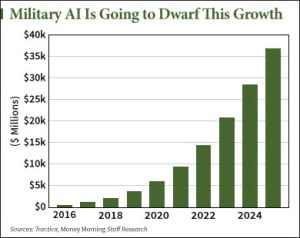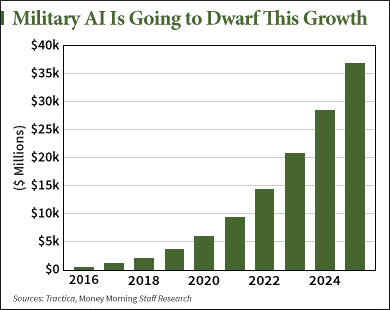 Like I said, this sounds like sci-fi, but the truth is, artificial intelligence - at least in concept - has been with us a long time.
You could say the discipline started with Aristotle in the mid-3rd century BCE, with syllogism: formal, mechanical thought.
But beyond that, we have to fast-forward to the 1950s, when British mathematician and cryptologist Alan Turing developed his "Turing Test" to measure machine intelligence.
In any case, artificial intelligence has grown up significantly in the past 10 years. Nowadays, they have added a new 'AI', artificial intuition, and in some circles talk about 'AI squared' now.
Maybe you remember the computer HAL 9000 (one letter apart from IBM) in Arthur C. Clarke's "2001: A Space Odyssey." HAL was an AI computer that ran the ship for the astronauts... but saw more value in killing them than helping them in the end.
The point is, from that scary vision of smart computing, we now see AI everywhere. We can talk to our phones and ask for directions for a nearby restaurant. We can simultaneously translate and write or pronounce foreign languages. Cars can parallel park themselves.
This technology, which had found very few uses until computing power had become exponentially bigger and faster, is now being deployed everywhere.
But the most important AI work is being done in cybersecurity, intelligence, and for the military.
As we have seen in this election cycle, with private servers, WikiLeaks, and hacked emails becoming the focus of most of the back and forth in this presidential election, staying ahead of the hackers is becoming exceedingly important.
AI helps by finding patterns as well as "thinking on the fly" about how to adapt to cyberattacks. In intelligence work, AI builds strong real-time networks and signals (photographic, digital, and communications) analysis, which comes in handy whether you're fighting Russian and Chinese hackers or Daeesh.
AI is a huge development for investors as well...
Join the conversation. Click here to jump to comments…
About the Author
Michael A. Robinson is a 36-year Silicon Valley veteran and one of the top tech and biotech financial analysts working today. That's because, as a consultant, senior adviser, and board member for Silicon Valley venture capital firms, Michael enjoys privileged access to pioneering CEOs, scientists, and high-profile players. And he brings this entire world of Silicon Valley "insiders" right to you...
He was one of five people involved in early meetings for the $160 billion "cloud" computing phenomenon.
He was there as Lee Iacocca and Roger Smith, the CEOs of Chrysler and GM, led the robotics revolution that saved the U.S. automotive industry.
As cyber-security was becoming a focus of national security, Michael was with Dave DeWalt, the CEO of McAfee, right before Intel acquired his company for $7.8 billion.
This all means the entire world is constantly seeking Michael's insight.
In addition to being a regular guest and panelist on CNBC and Fox Business, he is also a Pulitzer Prize-nominated writer and reporter. His first book Overdrawn: The Bailout of American Savings warned people about the coming financial collapse - years before the word "bailout" became a household word.
Silicon Valley defense publications vie for his analysis. He's worked for Defense Media Network and Signal Magazine, as well as The New York Times, American Enterprise, and The Wall Street Journal.
And even with decades of experience, Michael believes there has never been a moment in time quite like this.
Right now, medical breakthroughs that once took years to develop are moving at a record speed. And that means we are going to see highly lucrative biotech investment opportunities come in fast and furious.
To help you navigate the historic opportunity in biotech, Michael launched the Bio-Tech Profit Alliance.
His other publications include: Strategic Tech Investor, The Nova-X Report, Bio-Technology Profit Alliance and Nexus-9 Network.