We've been talking about the defense "supercycle" of spending – set to last for at least a decade – that's only just beginning to ramp up. But there's one segment in this broad category that's already seeing huge amounts of increased spending.
Now, time was, this sector was more science fiction than actual, deployable technology. But an increase in computing speeds and a renewed focus on deploying "smart" technology means that this industry is actually in a supercycle inside a supercycle.
In fact, online research firm MarketsandMarkets projects that the $420 million market in 2014 will explode in the next five years to $5 billion – that's a CAGR of nearly 54% for the next five years.
Another study by techemergence.com anticipates an $8.3 trillion market by 2035 in the U.S. alone.
From $420 million to $8.3 trillion in just 20 years… Much of that windfall will come from one whale of a customer: the United States government.
I'm going to show you how to tap this growth dynamo quickly and easily, so you can get positioned for maximum upside as this trend takes off.
The Military Is Getting Smart About Artificial Intelligence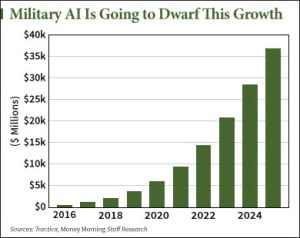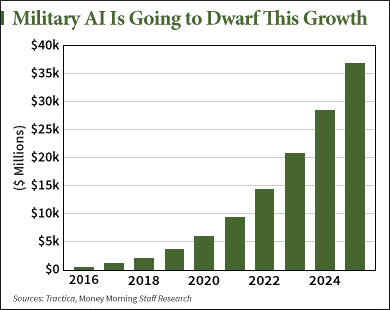 Like I said, this sounds like sci-fi, but the truth is, artificial intelligence – at least in concept – has been with us a long time.
You could say the discipline started with Aristotle in the mid-3rd century BCE, with syllogism: formal, mechanical thought.
But beyond that, we have to fast-forward to the 1950s, when British mathematician and cryptologist Alan Turing developed his "Turing Test" to measure machine intelligence.
In any case, artificial intelligence has grown up significantly in the past 10 years. Nowadays, they have added a new 'AI', artificial intuition, and in some circles talk about 'AI squared' now.
Maybe you remember the computer HAL 9000 (one letter apart from IBM) in Arthur C. Clarke's "2001: A Space Odyssey." HAL was an AI computer that ran the ship for the astronauts… but saw more value in killing them than helping them in the end.
The point is, from that scary vision of smart computing, we now see AI everywhere. We can talk to our phones and ask for directions for a nearby restaurant. We can simultaneously translate and write or pronounce foreign languages. Cars can parallel park themselves.
This technology, which had found very few uses until computing power had become exponentially bigger and faster, is now being deployed everywhere.
But the most important AI work is being done in cybersecurity, intelligence, and for the military.
As we have seen in this election cycle, with private servers, WikiLeaks, and hacked emails becoming the focus of most of the back and forth in this presidential election, staying ahead of the hackers is becoming exceedingly important.
AI helps by finding patterns as well as "thinking on the fly" about how to adapt to cyberattacks. In intelligence work, AI builds strong real-time networks and signals (photographic, digital, and communications) analysis, which comes in handy whether you're fighting Russian and Chinese hackers or Daeesh.
AI is a huge development for investors as well…
Join the conversation. Click here to jump to comments…
About the Author
Michael A. Robinson is one of the top financial analysts working today. His book "Overdrawn: The Bailout of American Savings" was a prescient look at the anatomy of the nation's S&L crisis, long before the word "bailout" became part of our daily lexicon. He's a Pulitzer Prize-nominated writer and reporter, lauded by the Columbia Journalism Review for his aggressive style. His 30-year track record as a leading tech analyst has garnered him rave reviews, too. Today he is the editor of the monthly tech investing newsletter Nova-X Report as well as Radical Technology Profits, where he covers truly radical technologies – ones that have the power to sweep across the globe and change the very fabric of our lives – and profit opportunities they give rise to. He also explores "what's next" in the tech investing world at Strategic Tech Investor.