By now, you know I'm absolutely crazy about data. I've got tons of it - years of price records on the best stocks on the S&P 500... years of earnings data... proven, backtested patterns, and a lot more.
All that data is one of the reasons why we do so well with our trading.
News networks like data, too, but they don't have the same variety and depth of data I've got at my fingertips. Nowadays, they're focused exclusively on every upcoming jobs and GDP report they can get their hands on.
Here's the thing - by themselves, those reports aren't worth paying much attention to, let alone basing your trading decisions on them.
But in the right context, these data can confirm or predict trends. Last week, for instance, I mentioned that quarterly earnings could point the way to a recession by March 2017.
Today I have to tell you that that recession is looming even larger on the horizon, so we'll want to alter our trading accordingly.
You see, I'm looking at another piece of data, an indicator, used by some of the most successful traders in the business, to see exactly how the economy is doing in real time.
This is incredibly accurate, and you don't have to have special access to anything to take a read on this powerful indicator, either.
It's as easy looking out your car window...
When These Guys Stop Moving, So Does the Economy
When it comes to investing in the stock market, one or more crucial industries can point to the state of the broader economy - and where it's headed.
And, believe it or not, the big rig trucking industry offers one of the best real-time indications of how "healthy" the economy is right now.
Trucking is an absolutely vital part of our economy. Pretty much everything we need in terms of goods and supplies needs to be transported from producer to seller so that you and I can buy them to live.
Raw resources from mines and farms, for example, need to be hauled to a variety of manufacturers all over the country. Medical supplies need to be delivered to hospitals, healthcare facilities, retail stores, and wholesalers. And, for obvious reasons, waste removal is a necessary use of trucks.
So it follows that the more big rigs you see on the highway transporting goods, the more the economy is strengthening.
After all, when companies are selling more of their products, it generally means that consumer confidence is high and people are spending more of their money. This is great news for the trucking industry - and even better news for the economy.
And right now, the big rigs are saying the economy is in some trouble...
This Is a Very Strong Correlation
[mmpazkzone name="in-story" network="9794" site="307044" id="137008" type="4"]
According to the most recent report from the Bureau of Economic Analysis, heavy truck sales have been down for almost two years now. This August alone recorded the lowest month of sales (29% decrease) in over three years.
Truck manufacturers take the hit first when truck sales drop, and usually that results in cutting jobs. For example, Navistar International Corp. (NYSE: NAV) reduced its staff by 1,400 people back in January as a result of declining sales. And Fortune 500 engine manufacturer Cummins Inc. (NYSE: CMI) announced that it will be cutting jobs to the tune of 2,000 by the end of the year. Naturally, job layoffs are not a good reflection of a growing economy.
Take a look this chart, which shows the past 30-year correlation between heavy truck sales and the growth of the U.S. economy - it's really compelling.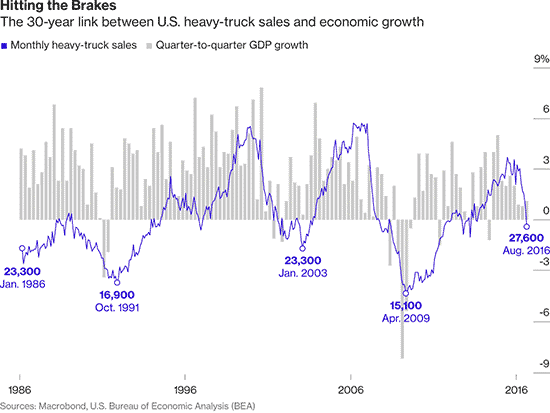 The sales numbers are something to watch, of course, but the freight size and expenditures of the existing trucks are also worth paying very close attention to.
Last month, David Ader of the Bloomberg View provided data from the Cass Freight Index that showed a 3.3% decline from July - and a 6.3% drop since August 2015.
Now, I'm not saying that a recession is assured in the next 12 months, but these lower shipping volumes and weakened prices are certainly less than encouraging - especially to folks who aren't nimble enough to get positioned for a recession.
Certainly for traders, falling sales and lower production don't add up to many earnings- and revenue-based trading opportunities, unless they're bearish. In that case, bear spreads and puts are just a few of the ways to play a decline.
And that's how, with a glance out the window, you can "get the drift" of the economy's movements. It's that simple - the more trucks, the healthier the economy; the fewer you see, the sicker you can expect the economy to be.
And once you have a sense of where the economy stands, or is heading, you can extrapolate the sectors in which to invest and whether to go bearish or bullish accordingly.
Keep your eyes on the road.
Tom's Power Profit Trades readers can make money with easy trades no matter where the economy goes - up or down, there's always money to be made. Click here to get his free service for yourself twice each week, and he'll get you immediate access to his special trade; you can use it to double your money on the world's biggest companies... in less than a month.
Follow Tom on Facebook and Twitter.
About the Author
Tom Gentile, options trading specialist for Money Map Press, is widely known as America's No. 1 Pattern Trader thanks to his nearly 30 years of experience spotting lucrative patterns in options trading. Tom has taught over 300,000 traders his option trading secrets in a variety of settings, including seminars and workshops. He's also a bestselling author of eight books and training courses.