Gold prices were trading higher today in the morning, but took a dip as U.S. stocks and the dollar moved higher.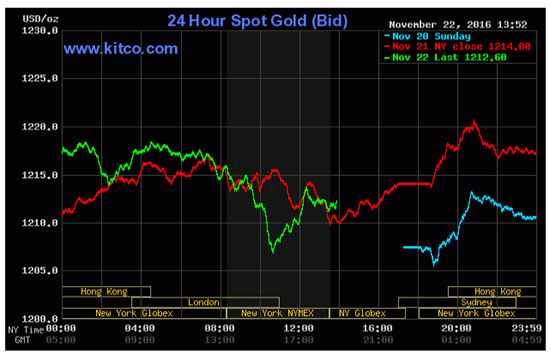 Just before Wall Street's opening bell, gold prices were higher by $5.70 an ounce at $1,215.50. That followed a slim gain on Monday. The yellow metal on Monday snapped a three-day losing streak, ending up $1.10 to $1,209.60 an ounce.
A modest pullback in the greenback over the past couple of days helped gold get this week's boost. A strong dollar has pressured gold, and the overall commodity sector, over the last couple of weeks. After closing last week at a 13-year high, the U.S. Dollar Index ticked lower today.
Gold prices have been under pressure since Donald Trump won the Nov. 8 presidential election.
After spiking in overnight trading on Nov. 9, climbing as much as 5%, or $64 an ounce, gold prices finished the session down $1 at $1,273.50 an ounce. The sharp reversal in gold prices was due to a quick rebound in the dollar, as well as a vigorous global rally.
Hopes for a return of robust U.S. growth, less banking regulation, corporate tax cuts, and hefty infrastructure spending have driven investors to riskier assets like stocks and away from safe-haven gold.
The Dow, the S&P 500, and the Nasdaq all closed at record highs on Monday. Today, the Dow hit 19,004 in early trading, passing 19,000 for the first time.
Investors are betting that Trump's plans to boost spending and growth will lead to a higher rate of inflation, faster interest rate increases, and a stronger dollar.
Stocks' strong showing as we head in the U.S. Federal Reserve's meeting next month has lifted the likelihood of an interest rate hike. Market odds of an interest rate increase after the Dec. 13-14 FOMC meeting are currently at 100%, according to CME Group's FedWatch Tool.
Gold prices struggle to compete with interest-bearing assets in a rising interest rate environment. Yet traders say a rate hike is already baked in to the price of gold and that the yellow metal is poised to move higher.