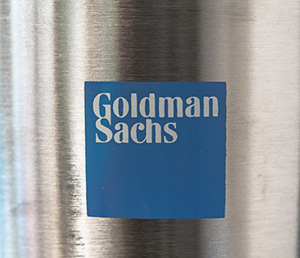 Goldman Sachs stock is rallying today (Wednesday) on news that President-elect Donald Trump has tapped former Goldman partner Steven Mnuchin as Treasury Secretary.
Shares of Goldman Sachs Group Inc. (NYSE: GS) were up more than 3% in morning trading to a 52-week high of $219.07.
Goldman has spawned several Treasury secretaries over the years, including Henry Paulson and Robert Rubin. Here are some key details about 77th Treasury Secretary of the United States.
Who Is Steven Mnuchin?
Mnuchin worked at Goldman for 17 years. Following his father's footsteps, Mnuchin joined the firm at 22 and left just shy of his 40th birthday in 2002.
Sign up for SMS so you never miss special events, exclusive offers, and weekly bonus trades.
From there, Mnuchin joined the hedge fund of his former college roommate Eddie Lampert. Mnuchin remains a director of Sears Holdings Corp. (Nasdaq:
SHLD
), where Lampert reins as chairman and CEO.
Mnuchin's stint with Lampert lasted less than a year. He left to work as a portfolio manager for billionaire financier George Soros. After a year with Soros, Mnuchin left in September 2004 to start his own hedge fund, Dune Capital Management.
Trending: Get the Best Investing Research Today to Grow Your Money
Outside Wall Street, Mnuchin is known for producing films, including "American Sniper," "The Lego Movie," and "Suicide Squad."
He is well regarded on Wall Street, but is new to politics.
As Treasury secretary, Mnuchin said tax reform will be his top priory. Today on CNBC, Mnuchin promised the largest tax overhaul since President Ronald Reagan.
Mnuchin also said he expects interest rates to stay relatively low for the next two years. He believes Janet Yellen has done a "good job" as Federal Reserve chair and said it is her call if she finishes out her term.
Stocks across the board were up following Mnuchin's appointment and his ambitious pledges. Bank stocks did particularly well. While Goldman Sachs stock was up more than 3% this morning, JPMorgan Chase & Co. (NYSE: JPM) was up 1.2%, and Wells Fargo & Co. (NYSE: WFC) gained 1.1%.
Bank stocks have jumped since Trump's victory on Nov. 8 and now have a new catalyst in Mnuchin. Here's the outlook for Goldman Sachs stock looking forward...