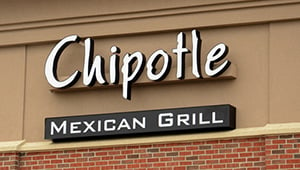 The Chipotle Mexican Grill Inc. (CMG) stock price tanked again Tuesday after the company publicly questioned its own 2017 forecast.
And while some investors may be tempted to buy Chipotle stock on the dip, we advise against buying in...
Shares of Chipotle Mexican Grill Inc. (NYSE: CMG) dropped as much as 7.8% to $365.33 on the news Tuesday. The drop marked the stock's biggest decline since Oct. 26. The CMG stock price is now down 23.7% in 2016.
As the company works to recover from a widespread E. coli outbreak, it has lost focus on its once-stellar customer service. That has caused long lines at its restaurants, which has spoiled one of its former key strengths. It has also affected sales.
Because of the escalating problems, co-CEO Steve Ells said the company is now "nervous" about meeting its previous guidance for next year.
"I'm not satisfied with the rate of recovery," Ells said Tuesday at a Barclays Plc. investment conference. "I'm particularly not satisfied with the quality of experience in some of our restaurants."
Chipotle's same-store sales, a closely watched metric, plunged 21.9% last quarter. That was worse than the 18.7% analysts had projected.
Chipotle's troubles began in late 2015 when a string of food-borne illness outbreaks scared customers away.
Trending: Get the Best Investing Research Today to Grow Your Money
The company tried several promotions, including giveaways, buy-one-get-one deals, and loyalty programs, to entice customers into its chains. That caused many analysts to warn that all of the promotions would have a major negative impact on profits.
Ells noted that 2016 has been the most challenging year in the company's history. He explained that same-store sales are difficult to predict, making it harder for management to have confidence in its prior guidance. In October, Chipotle forecast 2017 earnings of $10 per share.
While some are buying on today's dip in the Chipotle stock price, we think that's a bad idea. Here's why we see shares continuing to fall...
Why We're Staying Away from Chipotle Mexican Grill Inc. (CMG) Stock