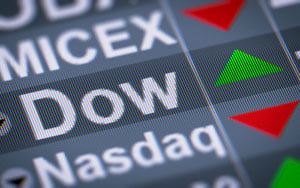 With U.S. stock markets hitting record highs seemingly every day following Donald Trump's presidential victory, it seems like only a matter of time until we see Dow 20,000.
Odds are, we could see Dow 20,000 any day now.
The 30-stock index rose 297.84 points, or 1.55%, yesterday (Wednesday) to finish at 19,549.62. That marked a new all-time record for the blue-chip benchmark. The broad-based S&P 500 added 29.12 points, or 1.32%, to 2,241.35, also a record.
What really got investors excited was the Dow Transportation Average's close. The index climbed 2.5% Wednesday to finish at its first record since Dec. 29, 2014. That's a bullish signal.
According to the "Dow Theory," new highs in the Dow Industrials should be accompanied by new highs in the Dow Transports for the rally to last. The theory states that transports are a proxy for the strength of the economy. They move the goods and raw materials needed for manufacturing and construction.
Up Next: Get the Best Investing Research Today to Grow Your Money
The Dow Transports have outperformed since the election, up almost 13% since Nov. 8. That compares to the 6.6% advance for the Dow Industrials. Transport stocks are concentrated in the United States, which leaves them poised to benefit from Trump's pledges of hefty infrastructure spending, tax cuts, and regulatory rollbacks.
Investors have been piling into stocks overall since Trump's win. And that rush to be "in" markets shows no signs of slowing down.
As of Wednesday's close, the Dow has posted gains in 18 of the last 22 sessions since Election Day. It has posted a record close 12 times in that span. Meanwhile, the S&P 500 and the Nasdaq have risen 4.8% and 3.9%, respectively.
U.S. stocks extended their post-election winning streak today (Thursday). In early afternoon trading, the Dow was up another 0.5%, or 92 points.
Still, some investors are growing worried that the post-election rally may have taken stocks too far too fast...
Dow 20,000 in December?
You see, markets are in the midst of a historic bull run. Since the bull run started in 2009, the Dow has climbed nearly 200%. And the markets only got a boost following the 2016 election.
The Stock Trader's Almanac notes that December is the best month of the year for the S&P 500 and the second-best month for the Dow dating back to 1950. Average gains for both are 1.6%.
Since 1990, markets have finished December positive 74% of the time.
So, Dow 20,000 before we close out 2016 is a distinct possibility. As for what happens next, Money Morning Capital Wave Strategist Shah Gilani explains that Dow 20,000 "is the big psychological tipping point; it'll get a lot of attention and draw more people into the market."
While markets are on a tear and heading higher, it's always prudent to protect portfolios in case of a sudden and sharp market drop. Stock market crashes can hit at any time, which is why it's always necessary to have a plan just in case. That's why we've developed the following guide for how investors can protect their money, and even profit, when the markets start falling...
Follow us on Twitter @moneymorning and like us on Facebook.
Related Articles: