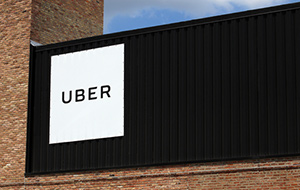 The $66 billion Uber IPO valuation means one thing for investors: this will be one of the most-hyped IPOs in years.
We still don't have an Uber IPO date. But Wall Street is already hyping up Uber stock, and following the crowd into the Uber IPO will be risky.
That's why today, we wanted to provide our readers with more information on Uber's valuation and its competitors.
Also, we'll share how to play the Uber IPO.
But before we get to that, here's a look at why Uber has such a massive valuation...
Why Uber Has a $66 Billion Valuation
Uber is valued at $66 billion because of its skyrocketing revenue.
Uber recorded $2.93 billion in bookings in 2014. But in Q2 2016 alone, Uber generated over $5 billion in bookings.
Those bookings in 2014 helped Uber generate $495.3 million in revenue. And revenue totals climbed to $1.1 billion in Q2 2016.
Part of the reason those bookings increased was because of businesspeople using Uber...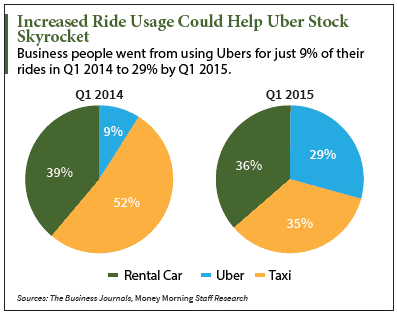 In Q1 2014, businesspeople were still relying on traditional transportation services, like rental cars and taxis, more than Uber. Only 9% of businesspeople used an Uber during that time frame.
But by Q1 2015, the number jumped to 29% of businesspeople using Uber.
However, increased competition could cause this rapid revenue growth to slow...
Uber Competitors Threaten Profits
Right now in the United States, Uber's biggest competitor is Lyft.
Trending Story: Your Snapchat Stock Guide Before Snap Goes Public
Lyft launched in 2012, and Lyft users use a smartphone app just like Uber to request a ride. The cost of a ride will vary by city and current demand for rides.
Lyft has a much smaller valuation than Uber at $5.5 billion. But Lyft still has some big-name backers.
Alibaba Group Holding Ltd. (NYSE: BABA) invested in Lyft for an undisclosed amount in 2014. Saudi Prince Al-Waleed invested $104.9 million in Lyft in December 2015, and General Motors Co. (NYSE: GM) announced it would invest $500 million in Lyft in January 2016.
Also, Uber has new competition from Tesla Motors Inc. (Nasdaq: TSLA).
According to Tesla CEO Elon Musk, most people only use their cars for 5% to 10% of the day. On July 20, Musk tweeted he wanted to turn Tesla cars into self-driving taxis.
Musk said Tesla owners could even offset the cost of their loan and lease by using the vehicles as self-driving taxis.
Even if just half of the 400,000 people who ordered the Tesla Model 3 use their car as a taxi, that's still more than the 160,000 drivers Uber had as of January 2015, according to research site DMR.
Now that you know Uber's valuation and risks, here's how to play the Uber IPO...
Should I Buy Uber Stock?
Wealthy individuals and large institutions are able to invest in IPOs before retail investors.
They can buy into an IPO cheaper than retail investors, which means they will always make more money.
For example, wealthy investors were able to purchase shares of Twilio Inc. (NYSE: TWLO) for $15 per share. On June 23, retail investors had to pay $23.99 per share.
At today's opening price of $29.61, some retail investors have made a profit of 23%. But wealthy investors and large institutions have made a profit of 97%.
"When you buy shares of a publicly traded company, you are paying what the market will bear and you risk everything. There isn't an investment banker on the planet who gives a damn about whether or not the investing public makes a dime on the IPO," Money Morning Chief Investment Strategist Keith Fitz-Gerald said on Nov. 21.
Tech IPOs are also notoriously risky.
Even though the Facebook Inc. (Nasdaq: FB) stock price has climbed 216% since its 2012 IPO, the FB stock price dropped 57% five months after its IPO. Twitter Inc. (NYSE: TWTR) stock has also been volatile since it opened for $45.10 per share on Nov. 7, 2013.
From today's opening price of $18.94, TWTR stock is now down 58% since its IPO.
Right now, that means Uber is a speculative investment.
We know investors may still have a lot of questions about the Uber IPO. That's why we made this guide for the Uber IPO, to provide you with all the information you need before investing in the Uber IPO.
Follow Money Morning on Facebook and Twitter.