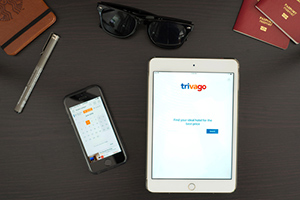 Shares of hotel booking site Trivago NV (Nasdaq: TRVG) rose as much as 10.7% in its stock market debut Friday. But does that rally mean investors should buy Trivago stock?
Before we get into our recommendation on how to play Trivago, which has changed its name from Travel BV (Nasdaq: TRVG), here's a look at how shares performed during their first day trading as a public company…
Trivago Stock Soars Following IPO
Trivago priced its initial public offering of 26.1 million American depositary shares (ADSs) at $11 each. That was below its projected number of shares and price range. The company had expected to offer 28.5 million ADSs at $13 to $15 each.
Trivago sold about 18.1 million ADSs. Shareholders sold roughly 8 million, down from a previous estimate of 10.4 million. After the IPO, Trivago continues to be controlled by Expedia Inc. (Nasdaq: EXPE), its biggest shareholder and customer. Expedia paid 477 million euros ($531 million) for a 62% stake in Trivago in 2012.
Urgent: Get the Best Investing Research Today to Grow Your Money
Trivago shares had a delayed open. Shortly before 11:00 a.m. on Friday, Trivago opened at $11.20 per share. Shares rose as much as 10.7% to $12.18 intraday before closing at $11.65. Still, that was good enough for a 7.73% first-day gain and valued the company at about $2.89 billion.
The Trivago IPO was the latest subdued showing from this year's IPO calendar. There have been 120 offerings filed in the United States so far this year. That's a 47.1% decline from last year, according to Renaissance Capital.
IPOs have raised 42% less so far in 2016 than they did in 2015, according to Thomson Reuters data. Nervous investors and poor post-IPO performances are to blame. Internet software and service companies such as Trivago have raised $450 million so far this year. That's down 41% from $762 million this time last year.
Trivago's platform allows customers to search through hotel deals gathered across a multitude of online travel sites. The company makes the bulk of its money from online travel agencies that pay for each click a customer makes on their hotel offers. It boasts an international presence with 55 localized websites and apps in 33 languages.
Over the last three years, the company has made a hard shift to mobile and now gets more than half its revenue from mobile. In the nine months ended Sept. 30, Trivago posted revenue of $425.6 million.
Now that we've reviewed the Trivago IPO, should you buy Trivago stock?
Should I Buy Trivago Stock Now?