We're all creatures of habit to some extent, with daily routines we try to follow as much as possible.
When we get up, when and how we take coffee, showering, eating - these all follow a pattern.
These kinds of habitual patterns appear in the stock market, too. After all, even in 2016, it's people who are making the bulk of the "buy" and "sell" decisions taken every day.
Study and learn these patterns, and you'll soon be able to tell when this buying and selling will happen - before the buyers and sellers know what they'll do.
Trading on these patterns is the proven way to beat the markets...
Two Dependable Patterns You Can Bet On
Computers play a big role in executing our trading and investing, especially in high-frequency trading, but the way I see it, anything you can find on a stock chart is the direct result of decisions made by flesh-and-blood people, individually or in groups. The opening price, intraday high and low, and close are all determined by actions people have taken.
Like everyone else, people participating in the stock market have beliefs, guiding principles, and goals. Given time, you can learn how those people will react based on the beliefs, guiding principles, and goals they've demonstrated before.
This idea certainly applies to trading - especially when it comes to technical analysis...
Stock price patterns are the price movements on a chart that happen over and over again, either by direction (higher, lower, or sideways) or slope (larger or smaller). These movements occur over a specific and repeatable time frame.
There are two types that you can reliably count on...
No. 1: Technical Patterns
One common technical pattern that occurs (and we talk about frequently) is when a stock trades between the support and resistance levels as it moves sideways. The support and resistance levels are the prices at which the stock consistently trades (versus ascending or descending, where the price changes).
In the stock chart below on the PowerShares QQQ ETF (Nasdaq: QQQ), you can ascertain the support level as 114 and the resistance level as 118 (you can assess one less occurrence if you make the resistance price 119):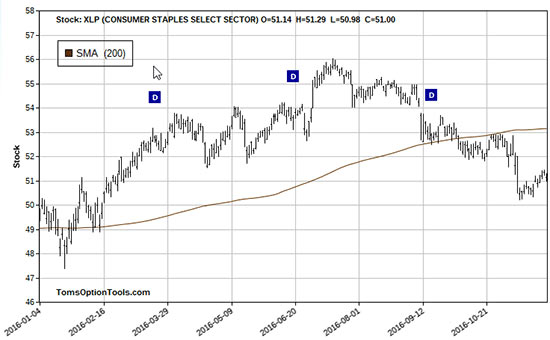 This is a sideways, technical pattern called "channeling." Stocks following this pattern are also referred to as "range-bound stocks."
You can easily spot this type of pattern by looking at any stock chart over a specific period of time (of your choice). Once you identify the support and resistance levels, then you can buy stocks at the lowest prices and sell stocks at the highest prices.
No. 2: Seasonal Patterns
Join the conversation. Click here to jump to comments…
About the Author
Tom Gentile, options trading specialist for Money Map Press, is widely known as America's No. 1 Pattern Trader thanks to his nearly 30 years of experience spotting lucrative patterns in options trading. Tom has taught over 300,000 traders his option trading secrets in a variety of settings, including seminars and workshops. He's also a bestselling author of eight books and training courses.