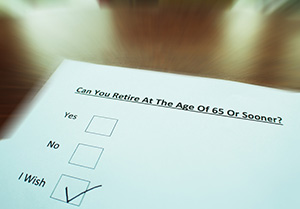 In addition to knowing the best investments to make when heading into retirement, it's also important to know the obstacles retirees face, so you can take steps now to avoid them.
We put together five of the biggest retirement obstacles that can rob unsuspecting retirees of their hard-earned money.
Don't let your retirement savings get eaten by government intervention or tax consequences. Check out our list to be "in the know" about retiring in 2017.
Obstacles Retirees Face in 2017 No. 5: Not Saving Enough Money
An April 2015 survey done by the Employee Benefits Research Institute found more than one in 10 workers think they'll need to save at least $1.5 million to retire comfortably.
That's up from $1 million, which used to be the industry standard for retirement savings 10 to 12 years ago, according to USA Today. Additionally, David Weliver, founder of the finance website Money Under 30, said using the $1 million rule of thumb could leave adults short on cash in their retirement years.
A big reason for this is longer lifespans.
According to the Social Security Administration, the average 65-year-old man is expected to live until 84, and the average 65-year-old woman is expected to live to 87. Compare that to 1995, when the average life expectancy for a male was 72.5, and for a female was 78.9.
The trend of living longer has caused certified financial planners, like Elizabeth Grahsl, to recommend her clients save enough retirement money to cover 25 years of expenses. In order to do so, resources like Fidelity suggest workers aim to save at least eight times their ending salary by retirement.
Based on last year's median household income, that means pre-retirees should have $429,000 in savings by age 60. But according to a BlackRock survey, the average baby boomer has only $136,200 saved for retirement.
Even worse, 55% of adults over 55 claimed to have no retirement savings, according to a GoBankingRates study.
Obstacles Retirees Face in 2017 No. 4: Increased Healthcare Costs
A study done by JAMA Internal Medicine revealed that healthcare costs are expected to increase, going from $190,000 for retirees in 2005 to $245,000 for those retiring today.
A 65-year-old couple retiring in 2016 was expected to spend an average of $260,000 on medical expenses over the next 20 years. That's excluding the cost of any additional long-term care, according to Fidelity.
And the worst part is retirees aren't planning for these increasing healthcare costs. According to a survey done by Nationwide Retirement Institute, 48% of retirees or near retirees said they don't speak to their financial advisor about the costs [of medical care] because "it's a personal issue."
Additionally, more than half of the participants said they were "very or somewhat concerned" that increased medical expenses would deplete the assets they had hoped to leave their children.
Obstacles Retirees Face in 2017 No. 3: Social Security Is Running Out