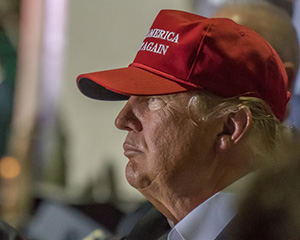 The Dow shot up 9% after Donald Trump won the election on Nov. 8, but as the "Trump rally" ends, investors are wondering if there will be a  stock market crash after Trump's inauguration.
The Dow has closed at a new record high 17 times since Election Day. It came within a point of breaking through the 20,000 level on Jan. 6. The S&P 500 and Nasdaq have also hit all-time highs since Nov. 8. Both indexes closed at record highs on the same day (Jan. 6), just over a week ago.
But as Donald Trump officially becomes president today (Jan. 20), some investors are expecting a stock market crash.
"Part of us thinks we should just sell the inauguration," reads a research report from Morgan Stanley.
The inauguration, coupled with stocks at soaring highs, is prompting fears of a sell-off that could lead to a market crash in 2017.
But investors shouldn't fear. Our experts at Money Morning think the conventional wisdom is wrong. We'll tell you why, but first we want to show you why some investors are wondering if stocks will crash in 2017...
Is the Stock Market Too High?
Stocks are at all-time highs, but they haven't been driven by economic performance.
While the S&P 500 climbed nearly 10% in 2016, economic indicators grew at a much weaker pace.
Corporate earnings by S&P 500 companies grew by less than 1% in 2016. Between Q2 2015 and Q2 2016, U.S. GDP grew by only 2.9%.
The S&P 500's current Shiller P/E ratio - a measure for valuing stock prices created by Nobel Prize-winning economist Robert Shiller - is currently 25.38. That's 53% higher than its historical average of 16.6.
If the economy isn't pushing stock markets higher, then what is?
The biggest factor has been low interest rates.
The U.S. Federal Reserve slashed interest rates to 0.25% in 2008. That's made it very cheap to borrow money.
And that was the Fed's plan...
As the U.S. economy was in the middle of a recession, the Fed hoped low interest rates would encourage businesses to spend more money and grow the economy.
But the Fed was only half right.
Don't Miss: Rare gold anomaly - an event so rare, it's only happened twice in 20 years! And it's about to happen again. Find out more.
Corporations took advantage of low interest rates and have borrowed $1.9 trillion since 2008. And they spent the money purchasing shares of their own stock.
Corporations have repurchased $2.1 trillion of their own shares since interest rates were slashed in 2008.
That's how low interest rates have helped push the Dow up 179% since 2009, even though the economy only grew 30% in the same time.
When stocks are overvalued at this level, investors start to think the next stock market crash could happen soon.
Despite the inflated market, Money Morning Chief Investment Strategist Keith Fitz-Gerald says the markets remain optimistic about Trump's proposed economic policies.
"President-elect Donald Trump had a simple message on the campaign trail - spend, spend, spend," says Fitz-Gerald. "That means hundreds of millions of dollars headed right into our economy."
But now that Trump is president, the market will react to Trump's actions, not his expectations. And overinflated stocks coupled with uncertainty over Trump's policies has investors on edge...
What Could Cause a Stock Market Crash After Trump's Inauguration?
Money Morning Global Credit Strategist Michael Lewitt says investors should brace themselves for the market's reaction to President Trump.
"I can predict one thing about Trump's unpredictability: You can expect to see market volatility increase," says Lewitt.
Lewitt explains Trump's "deal-making" style of leadership is more "instinctual" and "spontaneous," which is a lot less polished than a typical politician.
"Trump is pro-business and pro-tax cuts," explains Lewitt, but "markets don't like chaos."
"That will bring much higher volatility in a highly leveraged financial system vulnerable to accidents."
Once Trump is sworn in as president at noon today, the markets will begin to react to his ability to deliver on investor expectations. If reality doesn't meet expectations, a stock market pullback  could be the result. And that will only stoke more fears of a stock market crash.
But again, panicking is the worst thing an investor can do now.
Fitz-Gerald correctly predicted the Trump rally before the election during a Nov. 2 appearance on FOX Business Network, when nearly every other analyst said the opposite.
Now, Fitz-Gerald has another prediction about the stock market in 2017. Here's how he says to play the inauguration, whether there's a stock market crash coming or not...
How to Profit from the Next Stock Market Crash
[mmpazkzone name="end-story-hostage" network="9794" site="307044" id="138536" type="4"]
Investors shouldn't panic and sell their stocks. Fitz-Gerald says that's a mistake.
"The far better - and more profitable - approach is to think about where" stocks are headed next.
And Fitz-Gerald has a proven tactic for doing just that.
Fitz-Gerald calls them the "Unstoppable Trends." These industries include energy, technology, demographics, scarcity, medicine, and war. No matter what the market does, these industries are going to be in demand.
And by investing in the "Unstoppable Trends," you can profit even as others panic.
Take Raytheon Co. (NYSE: RTN), for example.
Raytheon is a major defense contractor with billions of dollars in contracts with the U.S. government. It's a leader in the defense industry.
No matter what happens with the stock market, the United States will always need defense and security. And Raytheon will be right there to help provide it.
That's why Raytheon will be a strong play going forward, even if the market corrects.
When the stock market crashed in 2008, RTN stock dropped 28% as the overall market fell 43%. But since the crash of 2008, RTN has exploded for 300% gains.
Investors who sold their stocks during the crash would have missed out on this explosive growth.
Microsoft Corp. (Nasdaq: MSFT) is another example.
Microsoft is a leading company in the "Unstoppable Trend" of technology. Technology is a fact of life now, and the world can't function without it.
A tech leader like Microsoft will always be in demand.
If you owned MSFT stock during the 2008 stock market crash until now, you would have pocketed gains of 286%. If you sold MSFT, you would have missed out on a huge profit.
Money Morning Chief Investment Strategist Keith Fitz-Gerald has a lot more to say about investing during uncertainty in 2017. In fact, he thinks big changes will lead to big profits for smart investors. Read the first of his two-part series here...