I'm getting ready for a monster rally.
As we all know, Trump campaigned on steep tax cuts for individuals and corporations. If he can pass either or both through Congress in his first 100 days, and there's no reason to believe he can't, expect the markets to go stratospheric.
There's more to it than that – the corporate tax cuts are more than just reducing corporations' federal tax liability.
"Repatriation" of U.S. corporations' offshore stash is going to be a huge driver of the next leg up I see coming. The Fortune 500 companies alone have $2.4 trillion parked overseas.
One company in particular has the biggest cash hoard of them all.
I'm going to show you 246 billion reasons to buy it right now. It's the perfect time. This stock will unquestionably lead the surge higher I'm expecting in the next three months.
This Company Is Going to the Moon
Apple Inc. (Nasdaq: AAPL) keeps defying gravity. And, as you'll see, things could still get a lot better.
Its most recent earnings story was just extraordinary. It beat expected iPhone sales, selling more than 78 million units. It beat services sales and revenue, which rose more than 17% and generated more than $7.2 billion, a record in service revenue. It posted revenue records on sales of Macs and Apple Watches. It handily beat expected quarterly revenue, which came in at a record $78.4 billion.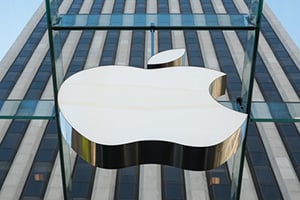 Records are just being blown away left and right.
And, believe it or not (and you'd better believe it), the stock is still cheap.
Apple now sports a market cap of $675 billion, but it trades at less than 16 times earnings.
That's way below the S&P 500's PE ratio above 22, or 26 on a forward basis.
Incredibly, it gets even cheaper when you factor out the company's legendary $246 billion cash and equivalents pile.
Subtract $246 billion from the company's market cap of $675 billion, and, on that basis, you get a market cap against earnings of $429 billion.
That's a PE of 9. That's right: N-I-N-E.
What other company trades at a PE of 9? Try Bed Bath and Beyond Inc. (Nasdaq: BBBY). No, I'm not kidding.
Apple is absolutely a value stock, one of the market's most compelling buys right now.
But it's got even more upside in store.
Tax Cuts Will Make a Good Thing Even Better
Join the conversation. Click here to jump to comments…
About the Author
Shah Gilani is the Event Trading Specialist for Money Map Press. In Zenith Trading Circle Shah reveals the worst companies in the markets - right from his coveted Bankruptcy Almanac - and how readers can trade them over and over again for huge gains.Shah is also the proud founding editor of The Money Zone, where after eight years of development and 11 years of backtesting he has found the edge over stocks, giving his members the opportunity to rake in potential double, triple, or even quadruple-digit profits weekly with just a few quick steps. He also writes our most talked-about publication, Wall Street Insights & Indictments, where he reveals how Wall Street's high-stakes game is really played.