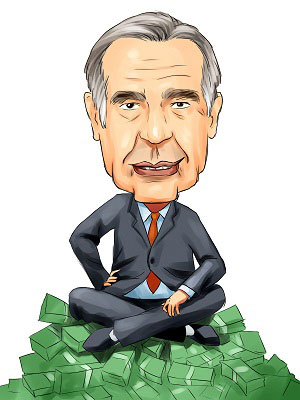 On Thursday, Dec. 22, 2016, Carl Icahn made more money in the stock market than anyone else in the world.
The S&P 500 fell 0.19% that day, and the Dow fell 0.12%, while Carl Icahn's investments gained him a staggering $510 million. That's more than any investor, anywhere, according to Forbes.
The gain pushed Icahn's holdings through Icahn Enterprises up 8%, meaning his $6.9 billion stake went to $7.3 billion.
This one-day boost, more than many people make in a lifetime, stems from the news that Icahn will hold a new, cozy role in the Trump administration. On Dec. 21, then President-elect Donald Trump's transition team named Carl Icahn as a "special adviser" for regulatory reform.
Trump reportedly wants Icahn to use his business pedigree to help the president roll back regulations on U.S. industries and business.
This position is not an official government job; Icahn is not considered to be a federal employee. Icahn won't get paid and won't have to give up his current business dealings.
But it has prompted a lot of questions as to whether or not it's ethical for Icahn to influence regulation and policy, when he has the potential to make billions of dollars on these changes.
"If Carl Icahn is competent, he will make an enormous amount of money from this role. It is outrageous to have people making big financial bets in markets while enjoying unique, early access to policy-making intelligence," Revolving Door Project's Jeff Hauser told Politico's "Morning Money."
Icahn's response to this "conflict of interest": "It's almost ridiculous to say, I'm going to give my opinion to Donald, but I shouldn't own stock. It's like, to me, crazy."
Here's just how much Icahn stands to gain in this historically unusual - but incredibly profitable - position of power...
Icahn's Amazing Position of Influence in Trump's White House
[mmpazkzone name="end-story-hostage" network="9794" site="307044" id="138536" type="4"]
One of Icahn's holdings is oil refining company CVR Energy Inc. (NYSE: CVI). As of Icahn's last SEC filing through Icahn Enterprises, he holds a little over 5.7 million shares. He controls 82% of CVR Energy.
His holdings in CVR have caused the likes of Eric Walker, the communications director for the Democratic National Committee, to note, "Icahn has billions in stock holdings... he will also be in charge of overseeing regulatory overhauls while concurrently controlling or owning stock in companies that he could benefit from the changes he makes."
And benefit he has...
Since the election on Nov. 8, 2016, CVR Energy has risen 67.3% (while the broader S&P 500 is up about 7.2%). CVR stock was up as much as 98.5%.
President Trump's fossil fuel-friendly rhetoric has pushed CVR and the whole sector higher. According to the U.S. Energy Information Administration (EIA), "Current crude oil prices near $50 have led to increased investment by some production companies... A price recovery above $50 could contribute to supply growth in U.S. tight oil regions."
The EIA's latest projections point to the United States becoming a net energy exporter by 2050.
We know Icahn has a history denouncing Environmental Protection Agency (EPA) regulations. For example, on Dec. 8, 2016, Icahn told CNBC that the EPA is one of the worst-run organizations he's ever seen, mainly critiquing the regulations it puts into place.
Icahn has been a big proponent of removing the Renewable Fuel Standard (RFS), a federal program the EPA started. Originally created under the Energy Policy Act of 2006 and later expanded and amended by the Energy Independence and Security Act of 2007, the RFS program requires renewable fuel to be blended into fossil fuel in increasing amounts each year, scaling up to 36 billion gallons by 2022 from 18.11 billion gallons in 2016.
Some refiners - like CVR Energy - cannot blend ethanol into gasoline. They need to purchase the ethanol on the open market or from other companies in order to meet EPA standards for renewable fuel. The goal of RFS is to boost renewable fuel production and provide robust growth of the biofuel industry.
However, Icahn has said "there is no good argument for what the EPA is doing" because it puts undue stress on merchant oil refiners' finances and prevents them from investing in their facilities. Icahn's main argument is that buying ethanol from other vendors could push some refiners into bankruptcy, leading to higher gasoline prices for the public.
"Under President Obama, American business owners have been crippled by over $1 trillion in new regulations and over 750 billon hours dealing with paperwork. It's time to break free from excessive regulation and let our entrepreneurs do what they do best: create jobs and support communities," Icahn said in an announcement when accepting the position on Trump's team.
And he will do so by using his negotiating skills and helping "on the strangling regulations that our country is faced with," said President Trump. Even if that means making some extra money in the process.
CVR is not Icahn's only energy moneymaker. He has a little more than 50 million shares in Chesapeake Energy Corp. (NYSE: CHK) and 2 million shares in Anadarko Petroleum Corp. (NYSE: APC), both of which are U.S. petroleum and natural gas exploration and production companies. Both stand to make Icahn money as he has Donald Trump's ear on EPA regulations.
You Know What Happens Next... Some of the biggest investors in the world are quietly moving money into a fast-growing sector. Warren Buffett is in for $15 billion and has another $15 billion waiting for the right moment. Bill Gates is fully on board with billions on the line. When that kind of money moves in early, you know there are fortunes to be made. See where the big money is headed right here
To get more up to date news on Carl Icahn's relationship with President Trump, follow us at @moneymorning or on Facebook.