How much is Snapchat worth? Right now, the social media app is valued between $19.5 billion and $22.2 billion.
That means Snapchat shares could trade between $14 and $16 per share.
On the Snapchat IPO date, Snapchat stock will trade on the New York Stock Exchange (NYSE). It will officially trade under Snap Inc. (NYSE: SNAP).
The company hopes to sell 200 million Class A Snapchat shares. Underwriters will also have the option to purchase 30 million shares.
But before investing in SNAP, there are two important details to know…
Snapchat Isn't Profitable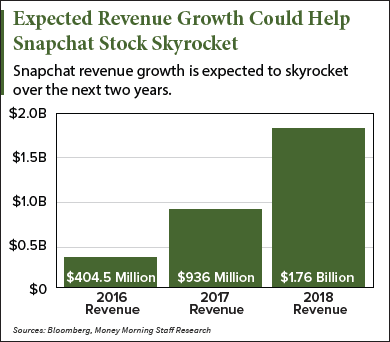 Snapchat generated $58 million in revenue in 2015, following that with $404.5 million in revenue in 2016.
Year over year (YoY), that's an increase of 597%.
However, Snapchat still isn't profitable…
In fact, Snapchat lost $514.6 million in 2016.
And in the Snapchat IPO filing, the company said it may never be profitable.
"There isn't an investment banker on the planet who gives a damn about whether or not the investing public makes a dime on the IPO," Money Morning Chief Investment Strategist Keith Fitz-Gerald said on Nov. 21.
But that's not the only reason why investing in Snapchat stock could be risky…
Snapchat Shareholders Can't Vote
In an unprecedented move, Snapchat will not offer Class A shareholders voting rights.
In theory, this will allow CEO Evan Spiegel to run the company as he sees fit. He won't be pressured from activist investors to compromise long-term growth for short-term profits.
But this also means Snapchat shareholders won't have a voice in any of the company's decisions.
If shareholders believe Spiegel is unfit to be CEO, they can't vote him out. Shareholders will also be unable to vote on any potential merger offers Snapchat may receive.
That's why before the Snapchat IPO date, investors need to read our exclusive Snapchat stock guide.
In it, you'll learn how Snapchat works and how it makes money. You'll also learn from Money Morning Director of Tech & Venture Capital Research Michael A. Robinson how to maximize your upside and limit your downside when investing in Snapchat stock.
You can find the guide, right here.
Up Next: Your Uber Stock and IPO Guide
Follow us on Twitter @moneymorning and like us on Facebook.